From the east in Packwood to the west in Pe Ell, Lewis County Farmers Markets showcase our vibrant agricultural region. Enrich your health and delight your senses by shopping farmers markets this summer. Doing so benefits your life and helps support local growers, producers, and craftspeople.
Farmers markets are hubs of the community and offer a place to meet up with friends, bring children, and savor the joys of small-town life. Check out all the great ones Lewis County has to offer!
Toledo Thursday Market
Toledo's Thursday Market has many exciting new things happening this year. There are twice as many vendors for starters. You'll find farms, handmade crafts, food vendors, and honey. Yum!
Also new this year, low-income residents who qualify for Women, Infants, and Children (WIC), Senior Farmer's Market Nutrition Program (SFMNP), or Supplemental Nutritional Assistance Program (SNAP, also known as EBT or food stamps) can use their benefits to purchase fresh fruits and vegetables. A matching funds program increases the purchasing power of these nutrition assistance funds.
The market's new website features unique vendors like The Blooming Artichoke Herbary and Terralumina Gardens. Check out the "what's in season" page to find what's coming next. From 3:00 to 7:00 p.m., Toledo's market is the perfect way to spend a Thursday evening.
Winlock Saturday Market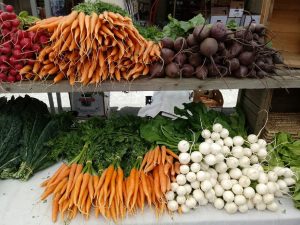 Every Saturday the space across the street from Cedar Village IGA becomes a bounty of local flavor. From June to September, from 10:00 a.m. to 3:00 p.m., rain or shine, Winlock Improvement Network showcases local farmers, artists and more at Winlock Saturday Market.
You'll find a bounty of delightful vendors, including a Simpler Past Homestead, which offers artisan and sandwich breads and freshly harvested foods.
Spaces for swap meet vendors are just $20. Consider starting a booth of your own.
Centralia's Historic Lewis County Farmers Market
For 40 years, Centralia Farmers Market has featured a plethora of farm fresh food, local arts, and more. Every Friday from 11:00 a.m. to 4:00 p.m. the parking lot at Vanity Fair Outlet is awash with tents offering the best of local farms and artisans.
There's lots to choose from. Olde Achers Farm sells beautiful flower baskets and vegetable starts. Or grab some homegrown goodness from Vienna Garden. Get home-baked goodies from Nana Kathy's Baked Goods. You'll love her delicious cookies, bread, cupcakes and marmalade.
Getting there from anywhere in Centralia or Chehalis is easy – just hop on Twin Transit. It's only $1 each way or $2 all day and kids ride free through September 1. The best part? You don't have to mess with parking!
Community Farmers Market of Chehalis
Downtown Chehalis is the place to be on Tuesdays through October. From 11:00 a.m. to 4:00 p.m., Boistfort Street is lined with wonderful produce, food, art and flowers. At Community Farmers Market of Chehalis find the STAR vendor of the week for special offers. Be in the know before you go with their weekly newsletter.
Kids' activities are a fun way for families to share in the fun of the market. Every kid up to age twelve who participates receives $2 in tokens to spend on fruits, veggies, or something to grow themselves.
While you're there, get lunch at Hot Dog Adventure. Their menu features gourmet and classic dogs, dessert dogs, and homemade chili. And don't forget to bring home the most delicious salad fixings from Coffee Creek Community Gardens.
Get in and out easily by hopping on Twin Transit – it's a great way to connect with community, add a few more steps to your day, and actually do something fun during the drive instead of being stuck behind the wheel.
Morton Farmers Market
Morton Farmers Market takes place every Saturday through September at Gust Backstrom Park, from 10:00 a.m. to 3:00 p.m. In its third year, this growing market features honey, flower baskets and veggie starts. New this year starting in mid-June is an exciting new vendor with mouth-watering fire-cooked pizza.
The market is hosted by nonprofit Friends of the Morton Parks. The event comes complete with kids' activities and musical entertainment. Plus Morton police officers sometimes barbecue free hot dogs and give kids police car tours.
Randle Farmers Market
From 9:00 a.m. to 5:00 p.m. Fridays, Saturdays and Sundays, Randle Farmers Market offers locally grown plants, produce, crafts and a swap meet. Located at 109 Hampton Road, the market boasts a variety of household and food items all weekend long through October.
Packwood Farmers Market
The Packwood Farmers Market takes place on the front lawn of Mountain Goat Coffee on Main Street through September. Open from 9:00 a.m. to 1:00 p.m. on Saturdays, locals and those passing through find yummy food and produce, beautiful crafts, and quality products at this community gathering place near the base of Mount Rainier. Fill up on loaded chili cheese nachos and get local, gourmet hot sauce from Coots Castle Produce.
Pe Ell Farmers Market
Head west and find the Pe Ell Farmers Market on Saturdays from 8:00 a.m. until noon, through October 5. Just off Highway 6 at 7th Avenue, this newer market is a bounty of agricultural offerings. Be sure to check it out!
In every corner of the county is a weekly venue of delicious produce, talented artists, and homegrown goodness. Our local markets showcase all the bounty Lewis County has to offer. Pay a visit and bring home the freshest ingredients, lovely crafts, and delightful flowers; there's no better way to enjoy the richness of the summer season.