According to the Census Bureau, the average size of a new-construction home is 2,422 square feet. An alternative, the tiny house movement grew from the idea of minimalism. It's unconventional but a growing number of tiny house dwellers are families.
For Brendan and Abigail Giese, living small is a way of life. Before moving into their 400-square-foot tiny home, the couple's rental house was only double the size. What does life look like for a growing family in such a small space?
When Abigail brought up the idea of buying a tiny house, Brendan was hesitant at first. But after a few initial nights in the space, he quickly grew to appreciate the intimacy of this lifestyle. "It's kind of like camping in a treehouse," he says. "I thought it would be claustrophobic but found it more on the cozy side over uncomfortable."
With a newborn and a nearly three-year-old son, Declan, simplifying their life meant reducing the number of items they own. "I like the forced organization," adds Abigail. Taking only an hour or so to clean, they both admit the small space gets dirty fast too. The intentional lifestyle requires flexibility. "You are going to need to be creative and multipurpose everything," says Brendan. "If you are rigid about things, it might not work well."
Accommodating to life in half the size means creative storage. Clothing storage is in fabric bins in the family sleeping loft. Toys tuck neatly in the pull-out storage under the built-in couch. A fold-out dining room table offers extra storage with drawers. There is even room for fishbowls, hung with macramé and a reinforced upper cabinet supports a larger tank. The family's dog has a corner in the living space. For extra fun lounging, hammocks are quickly hung and tucked away neatly when not in use.
The reduction in items lends to more meaningful time as a family. With chickens, gardens and plenty of play space, the family enjoys spending time outdoors. "Our unique dynamic is what makes it work," says Abigail. "Because we have room to roam and family nearby, it makes it easy."
Downsizing while growing their family was not without challenges, yet the issues were not related to space. The first challenge was finding a tow company to move the home during winter over soggy ground. One company showed up with a PT Cruiser and a little pickup. Finally, Black Lake Towing knew exactly what to do and successfully moved the tiny home to rural Chehalis.
The couple found the first wet and cold winter months arduous. Two weeks in and the first big rain revealed an inadequate roof and leaky windows. During the coldest months, the pipes froze. According to Brendan, his handyman skills were extended with the help of YouTube.
The couple agrees the lifestyle strengthened their relationship but admit there's no room for anger in the tiny house. "It comes with the caveat – you have to work through stuff," says Brendan. "Whenever you reduce space, you increase time together so naturally things get magnified. You have to be willing to work on those things together and actually flesh out your issues. You can't isolate yourself, and that is one of the vulnerabilities of a tiny home."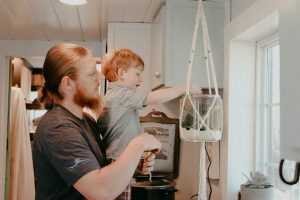 On the flip side, the fun and joy are also amplified. "Because it's all one room, when there is singing, dancing, and laughing – everyone experiences those things," Brendan says.
Where precious moments, like evening prayers with the boys, might have happened in another room behind a closed door, now those quiet moments are experienced by everyone. "That is where the closeness comes from," he adds. "You notice those things you didn't notice before.
The quality of living with low debt and less maintenance is valuable to Abigail and Brendan, yet their candid look at life in tight quarters goes beyond the logistics. Tiny living made room for a priority focus on each other and their young boys.
"Your happiness and joy at the end of the day is going to come down to your relationships," says Brendan. "Our culture tells us we are going to find happiness in a career, hobby, car, things, house, or the things you do, but it's never those things that will bring you joy. Living in a tiny house doesn't bring me joy, but living in a tiny house with a wonderful wife, surrounded by people who love me does. Living in Lewis County and having all these things outside at my fingertips does not bring me joy. It's being able to do these things with my family. Over everything else, it's about people and relationships."