When you walk into O'Blarney's at the Gibson House, you discover much more than mouth-watering food, big-screens and a great atmosphere. You find a dedicated crew of bartenders, servers, cooks and managers who ensure you feel like family. These 25 individuals are what sets O'Blarney's apart.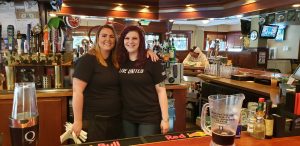 But what's it like to work there?
Jeff Malloy knows – he's been with O'Blarney's for almost 30 years. He started at the restaurant's Olympia location as a young college student in 1991 as a part-time line cook. Since then, he's done a little bit of everything. He moved from the kitchen to the bar and, eventually, into management – ultimately becoming an owner.
"It's a lot of hard work, long hours and time away from the family," Jeff says. "But I think the opportunity is always there. We try to provide that to our staff. I have personally let them know that's the way I did it. We try to give an opportunity for people who work well independently and aspire."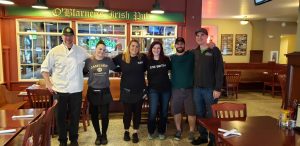 Jeff supports his employees by capitalizing on their strengths. "We try not to put a lot of tasks on people," he says. "We try to find what they're good at and let them drive it that way. We identify people we think would make good leaders but then we don't just throw a pile of stuff at them. We figure out what they do best."
A good example of this is Kayla Baker, who's been an integral part of the team for five years. Although she started without much experience, she worked her way up to a supervisor position as lead bartender. "That's what we look for: people who want to take initiative and move up the ladder," Jeff says. "We don't ever really hire people off the street for leadership positions. We bring them up from within – not unlike my story."
Jeff hired two other employees around the same time as Kayla. Tisha Seward and Chelsea Dady both turned out to be excellent picks. "I was on a hot streak and hired all three high-quality people in a matter of a few months," Jeff says.
Each has given their all for O'Blarney's and the restaurant has supported them in return. Kayla had foot surgery and both Tisha and Chelsea (as well as Jeff) had babies. Through it all, the O'Blarney's team worked together.
"It's really fun to work here," Kayla says. "It's a tight-knit crew, like a second family. It's like that with the customers too. Everyone becomes a part of each other's lives. We work hard, joke around and have a good time."
Kayla values the opportunity Jeff provided for her to advance in the company. "He's an awesome manager – probably the best one I've ever had," Kayla says. "He's laid back and puts a lot of faith in the team."
Eric Humiston, a three-year bar server at O'Blarney's, appreciates the team vibe. "We all get along like family and look out for each other," he says. "Everything is taken care of. I enjoy working here because of the people I work with."
Eric knew he wanted to work at O'Blarney's the second he walked in. He was drawn to the unique, circular bar that allows for easy conversations and enjoys the social part of the job. "Everybody is in the conversation," he says. "I really like to share experiences and stories."
Line Cook Paul Bailes enjoys the people at O'Blarney's most. "They keep me working here," he says. Previously from Seattle, Paul walks to work and enjoys the community feel of seeing the same people. "It's small town kind of goodness and that's the best part," Paul shares.
Paul's favorite part of the job is cooking and he takes pride in his work. "This restaurant is like a hometown place to eat," he says. "My friends and family all say the same thing – they've never had a bad meal here. That's what we are known for; good home-cooking."
Shane Wright has been head chef at O' Blarney's for over four years. Creative freedom in the kitchen is his favorite part of the job. After working in the restaurant industry for 25 years, he especially enjoys the upscale – but not corporate – atmosphere.
"Jeff is a great guy to work for," Shane says. "It's a good area, and the place is chill. The front and back of the house staff are all great. Each and every one has their unique and special skill. It's nice to be able to utilize that as a group. Everybody is fun to work with; it's like family."
"We really appreciate our staff and all the hard work they put in," Jeff adds.
O'Blarney's Irish Pub
221 North Tower Avenue
Centralia
360-807-4581