Draven Riddle entered Napavine High School with his sights set on becoming the next great high jumper for the Tigers. But it wasn't long into his track and field career when he discovered that wasn't going to be the case. "I did high jump a lot freshman year," Riddle said. "I just wasn't excelling at it."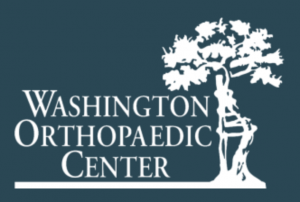 He wasn't discouraged, however. He knew he was a jumper. It just turns out he was better at it going horizontally instead of vertically.
How much better? Try state championship level.
While the mechanics of the high jump weren't completely lost on him – he was constantly clearing 5-foot-4, but not much higher during his freshman season – everything about the triple jump made sense.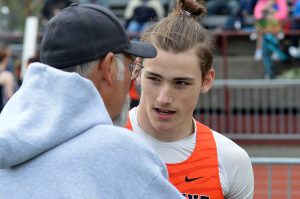 "It just clicked with me," Riddle said. "The first time I tried it in high school, I ended up getting eighth or fifth or whatever it was, but I thought, 'This is something I'm going to stick with.'"
A wise decision, as no one in the 2B classification has been better at it than the Napavine junior over the last two years.
Riddle won last year's 2B state championship with a jump of 42 feet, 3 inches. He has already bettered that mark this year, jumping 43-8 at the annual Pirates Classic at Adna High School on April 15. He has competed eight times this year in the event, posting first place on seven occasions, including a victory at the 59th annual Shelton Invitational where he went up and defeated several of the state's best triple jumpers in the 3A and 4A ranks.
"I have the same goal for the triple jump as I did last year: win state," Riddle said. "I want to get first in the long jump as well, but Brandon Montoya basically has that set in stone unless he gets hurt."
Montoya, a junior at Lyle/Wishram High School, is the back-to-back state champion in both the long jump and 200, and the defending state champion in the 100, an event Riddle currently ranks first in the state among 2B athletes after the 11.17 second effort he put up at a Central 2B League meet on April 25.
Riddle got into the triple jump game rather late in his freshman season. He didn't even compete in the event until early May. Less than four weeks later, he was competing at the state championships.
"It just doesn't happen for everybody; it takes a lot of steps," Riddle said about the triple jump. "My knees and ankles were killing me before I finally figured out how to do it."
Once that occurred, it's been one triumph after the next for Riddle. He followed up a second-place finish at the 2B Central League sub-district championships in 2017 by claiming third at the 2B District IV meet.
"I didn't think I was good at it at that time," Riddle said. "At subs my freshman year I did 39-11, and then went on to districts and got a 39-6.5. Basically, when I was told I was moving onto state, that's when I guess I finally thought I could be pretty good at it."
After closing out his freshman year by finishing 11th at the state meet, Riddle opened his sophomore season by jumping 40 feet for the first time. He continually improved on that mark, eventually winning the league, district and state championships.
"It was insane going from 11th and not even making it to the podium my freshman year to winning it the next year," Riddle said.
Already the school's record holder in the triple jump, Riddle's top mark this year is 14 inches better than anyone else in the state as he looks to defend his state title.
"Earlier in the season someone had passed me for the top spot on the list. I did 42-1 at my first meet. Then someone did 42-6 right after that," Riddle said. "I spent my whole spring break doing triple jump just because I wanted the top spot back."
It didn't take Riddle long to reclaim the state's top spot, but even he admits he's looking well beyond his current numbers.
"My coaches tell me, don't look at 43 (feet). You know how much potential you have so don't think that 43 is it," Riddle said. "Just because it's the top in the state doesn't mean it's the top of what I can achieve. I don't think of it as what can I do in 2B. It's, what can I do in 3A or 4A? I don't want to be top in the state in 2B. I want to be tops in the state."
Riddle will get his chance to show that over the next few weeks. Napavine will compete in the 2B Central League championships at Kalama High School on May 10 before the top performers there participate in the 2B District I championships at W.F. West High School on May 17. The state meet will be held May 23-25 at Eastern Washington University.