For Jarrett Martin, the best place in the world is free-falling at 100 miles an hour from thousands of feet in the air. The Toledo native is a third generation skydiver. His unusual occupation is a family legacy. His grandfather Michael Martin started Skydive Toledo in the early 70s. Eventually, Jarrett's father Brett Martin took over the business.

As soon as he could fit in the harness at age nine, Jarrett took his first jump – tandem with his dad. He started jumping independently at 15. He once skydived into a high school homecoming football game. "I was known as the skydiver kid in school," he says. "Not very many schools have a skydiving athlete."
Jarrett also loves other extreme sports. "If it can't kill me, it doesn't seem like it's that much fun," he says. The higher the better for Jarrett, who also base jumps and enjoys paragliding. He loves all things aviation and even earned his pilot's license.
A base jump in Hawaii shortly after high school changed Jarrett's life forever. He fell a few hundred feet after a parachute mishap. The accident left him with a shattered spine, torn aorta, and battered kidney and lungs. He was left with no sensation or movement from the chest down.
That near-death experience didn't slow him down for long. Not six months later, he again jumped tandem with his dad.
Continuing his extreme lifestyle required a few modifications. He straps his legs together to keep them under control during a free fall. Landing is trickier now as well. He lands in a sitting position and he needs to be careful not to injure himself unknowingly.
Jarrett had to reconsider his career as a skydiving instructor. Using his in-depth knowledge and background, he decided to enter the safety sector of aviation. His company, Summit Parachute Systems, manufactures parachute harnesses.
The industry requires a TSO certification issued by the FAA, which took Jarrett a year to obtain. One prerequisite was a structural overload test for extreme circumstances. Jarrett tests his equipment using a weighted dummy to see how fast it can go. "It's an exciting thing to watch a 400-pound dummy at an extremely high rate of speed," he says.
Only four companies in the United States make pilot emergency parachutes. Summit Parachute Systems is the smallest. Jarrett is the only employee. He designs, cuts, sews and tests it all himself.
Where skydivers wear two parachutes, the kind Jarrett manufactures is one-shot for emergency use. Jarrett tests his own equipment by jumping with it. "I have to rig up a secondary parachute to make it legal," he says. "My product is probably the most tested for pilot bailout. It's super useful and educational to test them."
Some pilots fly in circumstances where they're required to wear a parachute. Airshow aerobatic pilots and skydive plane pilots are some of Jarrett's customers.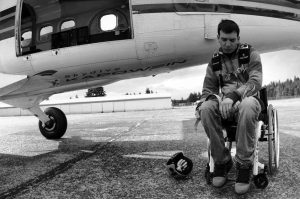 Jarrett travels all over the world to skydive. He's base jumped the fjords in Norway and he skydived in a competition over the pyramids of Egypt. "As one of the greatest wonders of the world, it was amazing to see them from a perspective that no else can see them from since it's restricted airspace," he says.
He also worked for Skydive Dubai, first maintaining equipment and then as a public figure for the government-run company. "Dubai was crazy and super awesome," he says. "It was cool in the name of skydiving and disabilities, to hang out in such an incredible place. It's one of the most luxurious cities in the world – the skyline filled with high rises."
A world away, Lewis County found Jarrett. After being in Dubai for a short time, someone tapped him on his shoulder. They said, "I don't know if you know this but we're cousins. I'm from Winlock." Sure enough, the cousin explained the lineage. Jarrett was blown away by the coincidence.
While he loves to travel, skydiving and work take most of Jarrett's time now. "It's beautiful and sad at the same time," he shares. "I know nothing outside of this industry."
No matter where he goes, his hometown is always in his heart. "I love Toledo," he says. "I see the beauty here in contrast to other places I go and it's a beautiful cycle."