There isn't much that slows Reserve Officer Sergeant Randy Pennington down, not even reaching retirement age. This Toledo Police Department officer has a tenacity that could rival any rookie on the force. Pennington has a lifetime of first responder experiences, serving south Lewis County for the last 33 years.
Pennington began his medical training during one of his multiple back-to-back tours in Vietnam. As a Screaming Eagle for the 101st Airborne, Pennington worked as a flight medic – even surviving a helicopter crash – then as a Drill Sergeant, and eventually as a jungle combat instructor in Hawaii. His two sons also followed the family tradition and enlisted during the Gulf Wars, both serving under the 101st Airborne Division like their father.
Police work is not Pennington's only public service. He has served as the Winlock Fire Department Fire Commissioner for over 18 years. The board acts as the legislative authority for the district. Becoming a Fire Commissioner was a natural act after becoming one of the first paramedics in Lewis County in 1981.
Pennington also drives lumber truck for his day job, when he's not in his patrol car.  Pennington's service has saved Toledo PD over $670,000 in his 33 years as a Reserve Officer. Although he has had paid offers elsewhere, Pennington plans to stay in Lewis County. "We raised our family in Winlock and it's just a great place," he shares. "I love it here."
"I don't do it for the money," Pennington adds with a laugh. "The joke is every budget period they double my pay, but zero times zero is zero. It sounds corny, but I can help a lady carry groceries in her house. I can go be with the kids during their school day. It's the best job that I have never been paid for."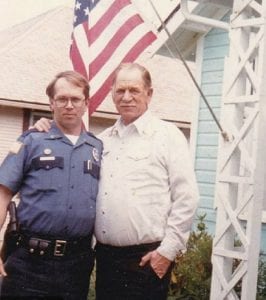 Pennington's connection with the people makes him want to continue serving as a Reserve Officer. Recently, he heard of a boy in Vader named Damon who wants to be a police officer when he grows up; he even dressed as one for Halloween. While trick or treating in Longview, the young man experienced some rude people who slammed the door in his face and said, "We don't like cops here."
Pennington decided to pay Damon a visit and bring him some treats. "My whole back seat was full," shares Pennington. "It was fun with lots of smiles and I hope it negated what he experienced."
Pennington never misses an opportunity to show his fun side. During Cheese Days, Toledo PD participated in a concert-style lip sync battle video. Police Chief John Brockmueller's band Sucker Punched provided the perfect opportunity to have some fun with the town's citizens.
"The community loved it and we had a blast; it was a riot," he says. "To me, it's a public relations thing. So many people have negative interactions with the police, it's nice to get out there and have some fun."
It's outside of his patrol car that Pennington finds the biggest rewards in police work. His granddaughters have settled into class, only to find Pennington at the door in uniform. He even shared his musical talents with his youngest granddaughter. Karlee's class performed a funny song and dance they watched on YouTube.
The police department enjoys interacting with kids, hosting coloring contests and interacting with the kids on play days. "If I'm on a day shift, I go to the schools and have lunch with the students and teachers," Pennington says. "It's just fun to me and can be more important than putting the bad guys in jail."
Pennington knows how hard it is for first responders. He has been first on the scene for the deaths of firefighters and fellow officers. "It's 95 percent boring, three percent hilarious and two percent sheer terror," Pennington says. "Anyone who ever says cops don't get scared is a fool. I get scared all the time."
Although the job can be frightening, his most difficult first responder memory came from his time as a paramedic. Years ago he responded to a head-on collision in Tacoma. The driver was in labor with twins. The firefighters held his feet while he delivered the first baby in the overturned car. The second was born on the way to the hospital. "Of all the things I have done as a paramedic and my tours in combat, I have seen some stuff," he says. "The only thing that makes me sick is delivering babies and do you know how embarrassing it is when the mother is seeing the paramedic like that?"
A true public servant like Sergeant Randy Pennington is a gem in our community. "Everybody has something they can do for their community," Pennington shares. "The rewards you get are absolutely priceless."
Upstanding leaders with compassionate hearts like Pennington are what make Lewis County so wonderful. Take a moment and thank a first responder for their service.