ZEV Technologies began as two separate companies, each fueled by their founders' love of firearms and their desire to create high-quality guns and components. That common vision has merged into a single manufacturer that's renowned for their creative innovation and meticulous quality.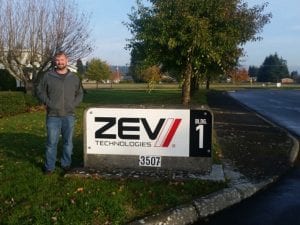 One of the founding companies, Mega Arms, was created by Tumwater's Mega Machine Shop, which does machining and fabrication work for the aerospace industry. When the company was approached to make firearm parts for another enterprise, they started their own brand. Eventually, Mega Arms moved to the Port of Centralia.
ZEV Technologies started in Oxnard California, as a manufacturer of aftermarket components for Glock pistols. Then, in 2016, ZEV Technologies became one of Mega Arms' customers. It was a good match and in 2017, ZEV Technologies decided to purchase Mega Arms' capabilities.
Both companies began as very small businesses. "The owners of each prospective company had a passion for firearms and were able to build that into a great company," says Kyle Markstrom, ZEV's director of operations and quality. "Then we were able to merge these two great companies together and now we have this large company that is doing some pretty cool, innovative things. That's the story of both of the companies – innovating and making the best in class products. Then growing into a company that has a big presence in the community and provides good wages for a lot of family people."
Today ZEV Technologies builds high-end components and parts for sporting rifles and Glock pistols. "People who are looking to optimize the performance of their firearms come to us for aftermarket parts that improve the performance, look or feel of the firearm that they own," says Markstrom. They also sell high-quality complete sporting rifles and are launching complete pistols soon.
With a focus on design, feel and performance, ZEV Technologies' products are sold online and through dealers, including Tactical Blackout in Centralia.
Customers range from online retail buyers to dealers and distributors. ZEV Technologies also manufactures parts for other gun companies, and has contracts with the government and various police agencies.
Professional shooters also use ZEV Technologies' products. "We manufacture a really high-quality product so a lot of competitors use them," shares Markstrom. One competitor, KC Eusebio, is ZEV Technologies' sponsored shooter. "He uses our products exclusively and is one of the best in the country – if not the best."
ZEV Technologies' creative process starts with an idea, which can come from people within the company who work in engineering, research and development or manufacturing. It can also come from customers. "If we get requests for a certain type of product, we'll get together as a team and look at a concept to decide if it's something we want to move forward with," says Markstrom.
The R&D department then develops a concept for the part. They come up with specs, models and drawings for the design. Then they make pre-production prototypes. Once these are approved, engineering takes over and formalizes the technical data for the component. Then the idea moves into production.
"One of the things we pride ourselves on is our engineering and manufacturing capabilities," Markstrom says. "Engineering works along with our product development department, too. They come up with new ideas and then we come together as a team on how to make and produce it."
ZEV Technologies enjoys being located in Centralia. "We found a good home here and have had a good experience working with the Port of Centralia," says Markstrom. "They're really receptive to our needs as a company and we see a lot of benefits to being here."
After being in Thurston County and California, ZEV Technologies finds dealing with local government a lot simpler in Centralia. "They get the role that we serve in the community as an employer," says Markstrom. "It makes our lives a little easier to provide good, working-class jobs for this community."
ZEV Technologies also has better luck hiring good employees from this area. Job openings change day-to-day and they're often looking for entry-level employees that can be trained to work in manufacturing, to run a CNC machine, shipping and receiving, or assembly. "We have people with engineering degrees and we have people with GEDs," shares Markstrom. "We hire for positions that are for different education levels and all kinds of people with different aspirations. We have a spot for lots of different types of people."
ZEV Technologies are a leader in their industry and a benefit to the local community. Check out their website for available innovative pistol and rifle products and keep an eye out for new items in the future.
Sponsored