Christmas is just around the corner and there's much to prepare, buy and do. Dick's Brewing Company is here to help with everything from great gift items, fun stocking stuffers and the perfect additions to your holiday meal. It's just not Christmas without holiday traditions from Dick's!
For your true love, Dick's has something way tastier than a partridge in a pear tree. A smoked ham! These tasty fully-cooked and boneless hams are ready today and range in size from four to six pounds.
Instead of two turtle doves or three French hens, a better bird for your holiday celebration is a tasty smoked turkey. At 10 to 12 pounds, these birds are brined and fully cooked. Call ahead to reserve your own smoked turkey or ham for your family's holiday meal.
Dick's uses their own ham and turkey on their sandwiches at NW Sausage and Deli so if there's any left after the big feast, you can enjoy it on leftover sandwiches. While you're there, try one of their delicious sandwiches and see for yourself.
Four calling birds will sing for Dick's appetizer trays. Need something to bring to the relatives' house for dinner? These huge trays feature some of Dick's signature meats including a snack tray, cold cuts and their ever-popular Chinese style BBQ pork. This BBQ pork is fresh, smoked and sure to please every crowd.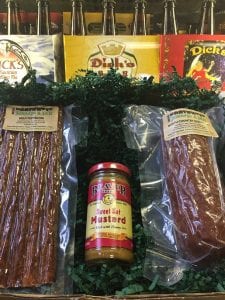 A gold ring is nice, but food is everyone's favorite. Dick's has gift boxes for those hard to shop for on your list. With Dick's best sellers like pepperoni, summer sausage, polish sausage and BBQ pork, these quick and easy gifts will delight those who receive them.
Geese a-laying are never going to fit under the tree or in their stocking – and what a mess! Dick's jerky in teriyaki, sweet and peppered beef is much more practical and fun.
Swans will a-swim miles for Dick's bacon and country pork sausage. These meats are perfect for that extra special, mouth-watering Christmas morning breakfast.
Maids a-milking will be thrilled with bottle openers, Dick's beer glasses and koozies – after all, they've milked all year and they're ready for a break. Grab one of these fun stocking stuffers and add a bottle of beer for the most adult stocking ever.
Get the ladies dancing when they open their very own Dick's hoodie, flannel or T-shirt. With funny sayings like "You can't beat Dick's meat" and "Chicks love Dicks" and new Danger Dick's option "We drink what we can and sell the rest," these T-shirts are great for all the guys and gals on your gift list. Everyone will love a fun new Dick's trucker hat to wear with their Dick's shirts too.
Lords will be a-leaping when gifted Dick's beer. Find up to 12 taps at the brewery with Dick's best sellers and seasonal flavors not available before or in bottles. Try a new beer and grab some to go for holiday parties and as great gifts.
Dick's has 12 packs of beer with eight varieties. If grandma doesn't know what kind of beer everyone likes, she can get a variety pack and make everyone happy at Christmas dinner. It makes a great gift too. With seasonal flavors like Double Diamond Winter Ale and classics like Dick Danger Ale or the new Hazy IPA, there's a flavor for everyone.
The pipers love delicious snacks. Dick's has seven kinds of pepperoni – mild to triple hot – and their most popular flavor is teriyaki. For those who prefer something a bit spicier, try their jalapeno pepperoni – it's "piping" hot. They have great summer sausage too – another great stocking stuffer.
Twelve little drummers will strike up a beat for Dick's Rootbeer. Grab it by the growler and all the kids at your family gathering will think you're the coolest relative of all.
"It is so fun being super busy through the holidays," says Julie Pendleton, co-owner. "Dick's is so much of a tradition for families. People say it's just not a holiday unless they get a smoked turkey or BBQ pork from us. Kids tell us they look forward to pepperoni in their stocking every year. It makes our day and it's fun to see and hear those stories that people tell us while shopping."
There are more than 12 days to prepare for Christmas, but the big day will be here before you know it. Swing by Northwest Sausage and Deli, grab some lunch and get what you need to make your holiday meal celebrations and gift giving extra special.
Dick's Brewing Company and NW Sausage and Deli are closed Thanksgiving and Christmas day.
Dick's Brewing Company
3516 Galvin Road
Centralia
360-736-1603
Northwest Sausage and Deli
5945 Prather Road SW
Centralia
360-736-7760
Sponsored