There's nothing quite like the smell of a freshly cut tree sitting in your home. Each holiday season, as we decide to bring the forests into our dwellings, the unmistakable scent of pine and fir permeates every nook and cranny. For many, these smells elicit strong, positive memories of holidays past, triggering joy through our olfactory senses. Each year, we wait in anticipation for Thanksgiving to end, allowing us to once again go out and select the perfect Christmas tree. Here in Lewis County, we're fortunate enough to choose from some of the best trees in the world, whether we go to a tree farm or go out and cut our own. 
It seems to be a secret to most Pacific Northwest residents, that Christmas trees are one of Washington's successful cash crops. The Pacific Northwest Christmas Tree Association boasts that Christmas tree sales bring $35 million to the state's economy, making The Evergreen State the fifth largest Christmas tree producer in the nation.
One and a half million Washington trees were harvested for Christmas celebrations in 2016, with 90 percent going out of state, the majority to California and Mexico. Many come from Lewis County, as our trees are some of the best and most sought-after Christmas trees in North America. Even better? We can get them directly from the source.
There are countless Christmas tree farms around the region, each offering their own unique and awesome experiences. But here are a few that are especially beloved, and ideal for finding the perfect tree this holiday season.
Mistletoe Tree Farm
We start in Adna, where the Mistletoe Tree Farm has been supplying Christmas joy for years. They provide a fun, family Christmas experience that you can't find at a road-side stand or big box store. Open this year from November 24 through December 9, enjoy hot cocoa, a fire pit, a visit with Santa and a selection of perfect Christmas trees. More information can be found on their Facebook page. 
Sprouffske Trees
If you're looking for something on the east side of Interstate 5, we strongly suggest heading up to Sprouffske Trees in Rainier. Sure, it's just outside of Lewis County, but this tree farm is awesome. Open from 9:00 a.m. to 4:00 p.m., starting the day after Thanksgiving until Christmas Eve, Sprouffske's trees will get you excited for the holidays. Their Russian Tea, cocoa and candy canes will leave you wanting to come back again and again. With 52 years of selling trees, you're sure to get the tree of your dreams.
Rochester's Christmas Valley Tree Farm
With a huge selection of trees, wreaths and holly, Rochester's Christmas Valley Tree Farm has become a holiday tradition for families all around the region. Open 9:00 a.m. to 5:00 p.m. from November 17 though Christmas, you'll love their selection. Friendly, helpful and affordable, those who get a tree from the Christmas Valley Tree Farm tend to return year after year.
Tree Hunting the Old Fashioned Way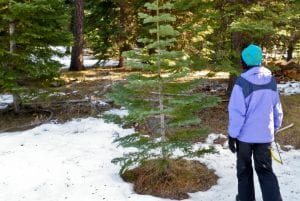 If you want something a little more rugged, you can always go and cut down your own tree at one of the National Forests around the region for just $5. Sure, the trees may not be the same shape as every other tree, but for $5, you'll find a unique tree just right for you. Christmas tree permits from Washington's National Forests can be obtained from any of the National Forest Service offices around the state, as well as through the mail. The application is extremely simple.
Be aware that you can only pick up a permit for the forest in which you are cutting down a tree; so if you're looking to get a tree from outside the area, you'll need to find the forest service office in that region. There are a few other rules officials would like you to know before finding your perfect Christmas tree, which can be found on their website. The Mount Hood National Forest has put together a great video to ensure you're both law-abiding and selecting the best possible tree.
To sweeten the deal, all fourth graders are eligible for a free tree permit through the national Every Kid in a Park initiative. In order for students to receive a free tree permit, they must present a valid paper voucher printed from the Every Kid in a Park website. Just visit it and follow instructions to obtain and print the paper voucher. Then, bring it with you to your local National Forest Office to claim the free permit (students must be present at the time). These free permits can only be issued through your National Forest Office and will not be available through local vendors who sell permits.
Happy holidays and even have fun tree hunting!