Disclaimer: This article is intended for readers age 21 and older.
Gypsy Greens is expanding with a bright new space for smoking accessories and merchandise. The new store, Gypsy Glass, will open on Green Friday, November 23. And it's easy to find, located right next to Gypsy Greens in Chehalis.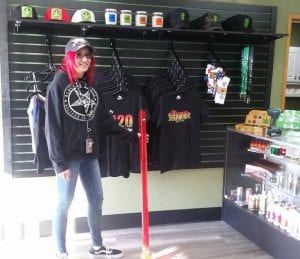 They couldn't have picked a better day to launch their new endeavor. "Green Friday is one of my favorite holidays," says Gypsy Greens Store Manager Raffe Reyes. "It's fun and everyone is just happy. It's very different from black Friday shopping – everyone is joking and laughing. It's the best."
Come party in the Gypsy parking lot with Bryne and Bryne Solutions from 8:00 a.m. to high noon. They're sponsoring fun gift bags and giveaways. Get your own Gypsy Glass lighter and coupons for Tipsy Piano Bar. And enjoy free donuts and coffee while supplies last. Gypsy Glass will also offer five percent off when you present a receipt from Gypsy Greens on Green Friday.
Familiar faces will be on hand at the new location. Raffe will run the glass shop, while Mariah Deanda, Gypsy Greens assistant manager, will be there to help.
The company loves variety. "I'm looking forward to adding onto our 420 family," Raffe says. "It's convenient, so they won't have to drive all over the place. We're one-stop shopping now."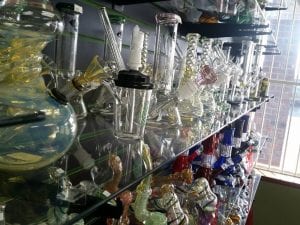 Looking for great gift items? Gypsy Glass has you covered. "We have awesome stocking stuffers like cute candy cane Sherlock pipes and peppermint flavored rolling papers," says Jenna Rodriguez, co-owner of Gypsy Glass. "And we have tons of other things that make great gifts too."
Gypsy Glass' wide variety of products is outstanding. You'll find bongs, bubblers, pipes, dab rigs, papers, rollers, clips, lighters and torches – and that's just the beginning. Store your cannabis in one of their stash cans or smell-proof bags.
Smoking devices come in all arrays of styles and materials, including blown glass, color changing, ceramic, silicone and more. They range from affordable, at just $3 each, to very high-end. Gypsy Glass supports the work of local artists and is always looking to feature more local creations. "We have a wide variety of different bongs, with all types of materials," says Jenna.
"It's exciting to be adding to the brand," adds Raffe.
Get a Gypsy hoodie, hat or T-shirt for yourself or as a gift. They even have cute pot leaf socks to match, which make great stocking stuffers. Add some incense and an ashtray for a sure hit with the smokers in your life.
One exciting new product comes from a local company that creates vaping accessories; a multi-use device that takes all types of cartridges and batteries. "I think it's going to add a nice atmosphere, with a more detailed variety of vape pens and more on the electronic spectrum," Raffe says.
And there's plenty for old-school smokers too. "We have one company founded by snowboarders from Colorado," Mariah shares. "They create silicone pieces that are unbreakable and weather-resistant, and you can take them on hikes or snowboarding. They're take-on-the-go with stash spots in each piece. It's cool."
"It fits our lifestyle here in the Pacific Northwest," Raffe adds.
The educated staff at Gypsy Glass can offer advice on how to clean and care for glass as well. "We carry 420 bottles of orange cleaner that's really good for getting the sticky stuff off," shares Mariah. "We also have pipe cleaners to keep glass nice and thick and make sure people don't damage it."
Jenna notes that, while there are several head shops in the Olympia area, Lewis County customers often get their smoking gear from gas stations. "We want to start a glass community in the area," she explains. "There's not a lot of glass available locally. Our customers ask for it and suggest things. We were running out of room at the pot store and we want to meet their requests."
Gypsy Glass will keep a request list to help meet their customers' needs as well.
And they already have everything you need to consume cannabis effectively. "We're building our Gypsy family and community," says Jenna. "We want to carry a wider range of products for our customers."
Don't miss Gypsy Glass' opening day on Green Friday. "We'll have amazing deals at the glass and pot shop," Jenna says. So grab your friends and enjoy the greenest holiday yet.
Gypsy Greens
1570 N. National Avenue
Suite 102
Chehalis
360-345-1374
gyspyglasschehalis@gmail.com
Gypsy Glass is open seven days a week from 10:00 a.m. to 7:00 p.m. Customers must be 18 or over, and show identification at the door.
Warning: There may be health risks associated with consumption of this product. Cannabis can impair concentration, coordination, and judgment. Cannabis has intoxicating effects and may be habit-forming. Do not operate a vehicle or machinery under the influence of this drug. For use only by adults 21 and older. Keep out of the reach of children. Persons who are pregnant or breastfeeding should not use cannabis.