In 1883, Chehalis incorporated as a city. Around that same time, the Racket Store, a local shoe shop, opened in town. Remarkably, it's still operating over 136 years later. Now named for the family, Brunswig's Shoe Store is quite possibly the longest operating retailer in Lewis County.
Eric Brunswig is the fourth generation of his family to sell shoes in downtown Chehalis. He says he has childhood memories of running around "annoying the people who worked here at the time." His father Bill, grandfather Norman, and great-grandfather William, all fitted Lewis County residents with shoes.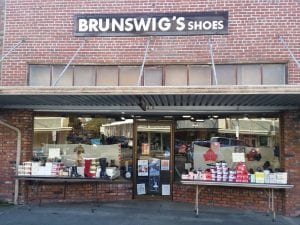 The store's longevity comes from the generations of people who shop there. "People who grew up in the community and shopped here with my granddad still shop here," says Eric. "All my customers are my favorites, I have had people tell me I put shoes on their kid's feet 20 years ago and they still shop here."
Eric says the way people shop has affected their operation. "In the last 20 years, people don't shop downtown," he says. "They come and leave. They aren't going from store to store. You don't see people walking down the street with bags in their hands."
The addition of big box stores to the area has caused the decline in downtown shoppers. "We don't get a lot of new business," says Eric. "Most people don't know that we have a downtown. They think everything is over by Wal-Mart."
But those who haven't yet discovered Brunswig's are in for a treat. Their customer service has withstood the test of time. "Granddad was fastidious if a customer tried on a shoe and didn't buy it, folding it all up just like it came from the factory," says Eric. "It's just something we have always done. It's a neatness thing."
Brunswig's one-on-one attention to customers is also an age-old tradition. "We still measure feet," says Eric, "to get a good starting point and try on shoes to find one that fits. We will go through that process. People will come in here and look through our inventory to try and find their own size because that's what they're used to. We will actually wait on them; it's just good customer service that you don't get at the big box stores. It's those small things that you don't notice until it happens or doesn't happen someplace else."
Brunswig's recently received notice from Nike that they "no longer align with our distribution strategy," canceling their contract. "Small accounts like ours don't make money for them so they quit selling us shoes," says Eric. "We knew it was coming. It wasn't a surprise. The only issue I had was how they worded the letter we got from Nike. It was a cease and desist order. It wasn't a thank you for supporting the brand for over forty years. It was 'we don't need you anymore so please don't use our logo and advertising.' That's the only issue I had with it."
You can support Eric and the rest of the team by shopping at Brunswig's this holiday season and all year round. "Stay off Amazon this Christmas," Eric says. "We do free gift wrap."
Community support can keep charming places like Brunswig's alive and thriving. "Nothing against Amazon, but it will spell the end of small retail," Eric says.
Eric is especially thankful to the loyal customers who have kept the shoe store going through the decades. "I appreciate the 136 plus years of people shopping here," says Eric. "Those families that have always shopped here, and are still in the area, have kept us going."
Make your holiday season extra merry and bright by skipping the big box stores and online shopping to peruse downtown. You'll find personal service and social interaction while buying unique items. Relax with a stroll past festive windows and charming decor. Grab a book or art supplies at Book N Brush. Let Eric find the perfect shoes or boots for everyone on your list. Stop and get a wholesome lunch at Sweet Inspirations. Enjoy welcoming smiles from shop owners who are truly happy to see you.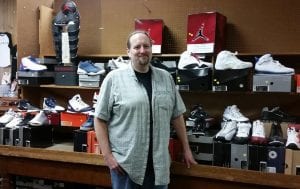 Brunswig's Shoes has a history as old as the town itself. Let's keep it going.
Brunswig's Shoe Store
525 N. Market Blvd.
Chehalis
360-748-7178
Brunswig's Shoe Store is open seven days a week and will have extended holiday hours closer to Christmas. They are closed on Thanksgiving and Christmas.