After traveling the country for two years in a 16-foot RV, Sarah Hartman and Matthew Wylder, both in their early 30s, decided it was time to sit still for awhile. They both worked for the Circus Smirkus, a non-profit arts and education organization where she was a cook and he was a roustabout.
"That's where we met and fell in love," Sarah said. "We had been really good friends for years and we already loved each other. And then we realized we were the partnership we were looking for."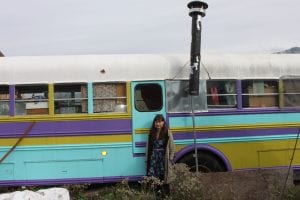 That moment came when they were sitting in the back of a heavy metal concert with music blasting all around them. "We were trying to have this really intimate conversation, screaming these profound relationship concepts to each other," Sarah said. "That was the night we fell in love, in romantic love."
Other relationships had fallen apart when Sarah said, "Let's pack up the car and go on the road." The guy would say, "No! I have a full-time job, an apartment, a dog, a career to manage…" And she would say, "You're no fun."
Matt said, "Okay!" and added his own suggestions.
"He's a person who runs as fast and as hard as I do," Sarah said. "It's easy for us."
The couple came to the Northwest looking for some land where they could homestead. They found it on Craigslist – almost 22 acres on a mountainside near Morton.
"The land was 100 percent raw," Sarah said. "It had never been developed at all, just logged and replanted. It's very wild energy."
The property is close to national parks and big mountains for hiking, mushrooming, canoeing, fishing – all the things they enjoy.
"People say, 'Oh, it's like camping all the time.'" Sarah said. "I get a little surly when they say that. I have chosen to do something hard, very hard. No, it's not like camping. I don't have the promise of a rental lease and a 50-gallon tank full of hot water to go back to. This is my life."
The correct term for how they live is "recreate." In Washington, it's legal to recreate on your property as long as it's in an "impermanent structure." That's why you see wheels on tiny houses and other recreational vehicles.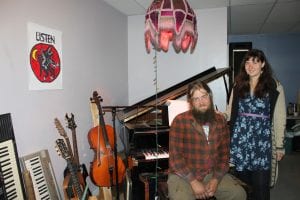 Sarah and Matt chose a 1968, 40-foot Bluebird bus as their home. "I wanted the biggest one I could get," Sarah said after living in a small RV for years. They moved the bus into place in February of 2017, driving over steep logging roads.
"It was very beautiful and perfect when we drove the bus up," Sarah said. The next morning they woke up to a foot of snow covering everything and more coming down.
They didn't have anything set up, so they had to trudge around in the snow with gusts of wind at over 40 miles per hour. Trying to install their wood stove chimney was terrifying. They put up a short stack first and smoked out the whole bus. Eventually they got the pipe up and installed correctly.
For dinner, Sarah filled a pot with snow and melted it to cook pasta. "It was new and exciting so it didn't seem so hard, but it was a difficult way to begin," Sarah said. They were snowed in for five days and the snow stayed longer.
Homesteading wasn't the only thing Sarah and Matt jumped into. They have a little storefront in downtown Morton that is actually a studio. People can walk in and play any of the instruments on display. Some stay just to hang out.
"Matt is an incredible musician," Sarah says. "He can play every instrument in the studio." She prefers using her voice as her instrument although she also plays the ukulele and the guitar.
Next door to their store is the Roxy Theatre where Sarah jumped into Fire Mountain Arts Council productions. She has been a member, board member, director, actor and producer. She has a BFA degree and teaches acting and scene study classes at Centralia College East. She is also a substitute teacher.
Matt continues to work as a fly-in roustabout for Crew That, a group that sets up and takes down circus tents for Cirque de Soleil. When he's in town, Matt works as a handyman for whoever needs his services.
"I'm glad I'm doing this now when I have the energy to do eight million things at a time and find it exhilarating instead of exhausting," Sarah said.
Community has always been very important to her and she worried about feeling isolated in a rural area. "The people are very accepting and made me feel very welcomed here," Sarah said. "I'm happy. I'm really happy."