It has been said that youth is wasted on the young, but that may be a myth. Charged with the energy of their youth coupled with tenacity, the Goldsby brothers, Kynan and Lawson, are living proof that the future lies in the hands of very capable, ambitious young people.
Kynan is 18 and graduated from W.F. West High School in 2018. "Academic" is how he describes himself. He was one of the Top 25 Students named by the Centralia-Chehalis Chamber of Commerce. Both young men are in the National Honor Society. Kynan received an Academic Scholarship as Salutatorian of his class with a 3.988 GPA while a part-time Running Start student. "I got one A-minus in college," he says. He also earned a STEM scholarship from Centralia College.
While he attends Centralia College to receive his associate's degree in Biology, he works as a tutor to other students. "I really enjoy it, helping people," says Kynan. "They are there to learn and get help. I enjoy helping people who want to learn." He plans to transfer to a university here in Washington after community college. "I am keeping my options open to see what interests me," he says. Right now his favorite classes are chemistry and biology.
Lawsen, who is 15 and a sophomore at W.F. West is described as the creative one of the pair. He enjoys building things like handmade bowls with his wood lathe. Recently he built a ukulele. "I just wanted to see if I could build one," he says. He makes knives with sheaths out of leather. Lawsen also recently saved his money to purchase a 3D printer to make little things for his projects.
Lawsen is influenced by his 77-year-old friend Red Weaver. The pair works together in Red's shop. Each year they build a wagon for the Portland Car Show and auction it off for kids with cancer. They also enjoy car shows together. "I have learned to do things on your own from him," shares Lawsen. "He leaves me to work for hours." Red offered a Model T body that they are going to use as a frame for Lawsen's first car.
Though both boys have varied interests, what they share is a common goal of giving back to the community. Each year the boys work as bell ringers for the Salvation Army. They also give secret Santa gifts to retirement homes for people who don't have families. In the summer, they work at the Rotary Corn Booth shucking corn during the fair. "It's good to give back to the community," says Kynan.
"It makes you feel good," adds Lawsen.
Both young men say their biggest role models are their parents, Dr. Trisha Goldsby and Shawn Goldsby. "They didn't necessarily come from the best background," shares Kynan. "They are hard workers and go-getters." The couple are high school sweethearts that grew up down the street from each other in Tenino. Both joined the military to pay for college; Shawn in the Marines and Trisha in the Army.
The family is close and enjoys spending time together. "We don't even have first cousins, so we are a pretty close, tight-knight family," shares Kynan. "Whenever we have family get-togethers it's always fun."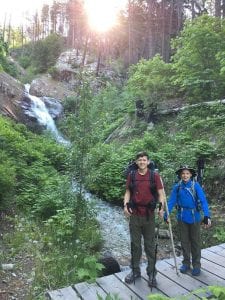 Cards, Spoons and Dominos are known to get really competitive in the Goldsby house. Holidays have a homey feeling with their small family. Lawson's favorite tradition is that they stay in their pajamas all day on holidays, even on Thanksgiving.
The family also enjoys time outdoors. A road trip to Yellowstone is a favorite memory for both young men. This summer they were able to spend 10 days in Europe. Both boys would like to return there in the future. Hiking in the Alps is not out of the question for these adventurous young men.
Locally, they climbed Mount Saint Helens and hiked parts of the Pacific Crest Trail. Last summer, Lawsen intended to hike 10 miles in one day and ended up doing 26 miles. "We got out at 11:00 at night and it was horrible because it was raining and hailing," he says. "It was kinda crazy and very scary."
The boys say they face life's challenges with the lessons they learned from their parents. "It's a common saying in our household to just put one foot in front of the other," says Kynan. "Even in hiking, that definitely helped a lot. You just have to keep pushing through. That is probably why we did the marathon hike in a day, it's because we just keep going."
These two well-rounded young men will no doubt become leaders and achieve the goals they set for themselves in life. With character traits of integrity, humility, empathy and respect, they are a shining example of good citizens with an understanding of service and leadership.