Here in Lewis County, we have a lot to be thankful for – wonderful people, beautiful nature and great family businesses that enhance our community, sharing their time and talents.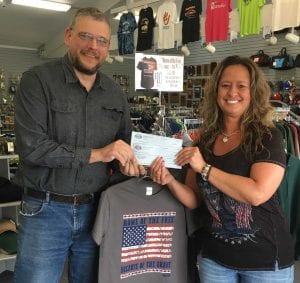 Alderson's Awards West Printwares is one of these great local businesses. They provide many items, including colorful, quality T-shirts for Lewis County sports teams, businesses and residents. They're heavily involved in the community, so it makes sense that, to give back, they'd do a T-shirt fundraiser.
The holiday season is a time for giving. What better way to show your gratitude than to wear it on your sleeve (pun intended)?
Alderson's shirt does just that. In the popular buffalo check pattern, the shirt says "Thankful" in a lovely script, with "Gratitude: An Attitude For Every Season" underneath. The shirts come in fitted women's and unisex options in ring-spun cotton and a tri-blend.
At $15 plus tax, these comfy T-shirts are perfect for the holiday season. And they're more than just a good reminder; all $15 from each shirt sold will go to the Lewis County Food Bank Coalition. This great organization helps countless community members access food all year round.
Sue Barlow is the President of the Lewis County Food Bank Coalition, the parent organization that supports Lewis County's nine food banks. She's impressed with owner Tom Alderson's efforts. "He's helping the whole county this way," Sue says.
"We view the county as our community, not just Centralia and Chehalis," Tom says. "As a business, we are well supported by the entire county and, when we have a chance to give back, we like to do it as much as we can. This gave us that opportunity."
Even with events like the annual Walk and Knock, in which participants collect food, local food banks can be left lacking. And, while food donations are essential, more can be done with monetary contributions. "This is the best bang for your buck," Sue says. "We take all donations – food and money – but we have the buying power. We can buy a lot more food with cash than anyone else can. We know what staples are needed and what is asked for in the communities."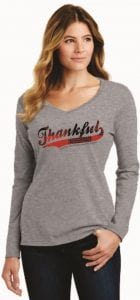 This September, the Lewis County Food Bank Coalition served 1,950 households countywide. "The numbers will go up in winter," Sue says. "They always do with seasonal unemployment."
The food banks are nonprofit organizations, which means they're entirely volunteer-run "from the president to the people who load the trucks," Sue says. "Hunger is very real, so everything goes right back into the community. It's enjoyable to work with the small communities and businesses. It can be super simple to large. Businesses give what works for them. That's what we want to encourage for individuals too."
The T-shirt fundraiser is meaningful for Alderson's both as a way to give back and as a philosophy. "We feel very strongly about just what the shirt says – gratitude," explains Tom. "We are blessed as a business and as individuals here."
"The shirt says it all and Tom does what he does best," adds Sue. "He does T-shirts. That's what they're known for. We have a lot to be thankful for as a community."
Alderson's is all about community involvement. They love it when customers stop in and say hello. "They're a known entity," Sue says. "We all come here. We have for years. It's always very exciting when we can do good work with local businesses."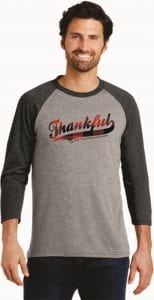 The collaboration was a natural fit for both parties. "We were super excited when Tom called," Sue says. "It's always wonderful when we can do something within our community that benefits the community. I like the idea of getting a nice T-shirt that I would wear for a small donation. We appreciate it. It's always fun to work with businesses that are excited about what they're doing. I'm going to buy one."
The design was created in-house by graphic designer Ashlea King and "there's going to be a number of people involved," Tom says. "It's a little bit of a dedicated effort because it comes at an already busy time."
The shirt is both visually appealing and crafted with high quality material. "We tried to upscale it a little bit," Tom says. "It's a T-shirt that you would like to wear. The tri-blends are pretty popular and they're a good fabric. With a unisex and ladies version as well, it's a little different from your regular cotton T-shirt."
Alderson's Awards West Printwares' goal is to sell 100 Thankful T-shirts, enough to raise $1,500 for the Lewis County Food Bank Coalition. The shirts are available at Alderson's from November 15 until they sell out, so get yours today. They make great gifts too!
Alderson's Awards West Printwares is located at 1124 Kresky Avenue in Centralia. For more information, call 360-736-2912 or email info@aldersons.net.
Sponsored