Calling all superheroes! Princesses! Monsters! Come one, come all! It's the 2018 Trick or Treat Transit! Make your Halloween extra special this year, with a special event courtesy of the Centralia-Chehalis Chamber of Commerce, Twin Transit and local area businesses. Trick or Treat Transit helps kids trick-or-treat safely with a creative twist.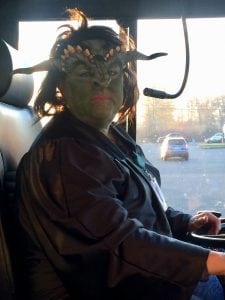 From 3:00 – 5:30 p.m. on Halloween, kids and their parents can ride the bus between the Lewis County Historical Museum in Chehalis, the Fairway Shopping Center in Centralia and the Twin City Town Center in Chehalis. The best part? It's all free of charge!
Kids can trick-or-treat each location before getting on another bus to a different location. And it's easy to move around, with Trick or Treat Transit buses coming and going every 15 minutes.
Centralia-Chehalis Chamber of Commerce Executive Director Alicia Bull describes the occasion as a "very family friendly event," adding that it doesn't cost anything to participate. "It's a feel-good event that's part of the community service the chamber does," she says. "We start early and try to be done before it's dark."
Many children wear their costumes to school, so having the event start at 3:00 p.m. provides for a smooth transition.
When Bull started at the chamber in 2012, the event was much smaller. "The kids rode on a trolley," she says. In those days, it was dubbed the "Trick or Treat Trolley."
After a few years, the event became so popular, Bull asked Twin Transit to provide a bus to augment the trolley. The trolley happened to be sold the following year, which made the trolley/bus partnership a nice transitional occasion.
"We were so lucky to have [Twin Transit] step in," Bull says. "It's a lot for them to provide with two buses. It's a very nice community donation."
In addition to her recognition of Twin Transit, she also has many compliments for the businesses that participate at the three destinations. "It's exciting when businesses participate," she says.
Trick or Treat Transit is a great experience for kids, especially those who've never been on a Twin Transit bus before. "A lot of them have parents with them," Bull says. "It's a fun family event put on by the chamber, Twin Transit and the businesses at those three stops."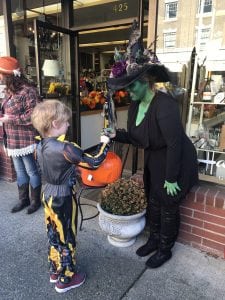 While it's not required, everyone is encouraged to dress up in costume. Bull especially enjoys all the cute kids, bursting with Halloween excitement. "We end up posting pictures so people can follow the event that night," she says. "Some of my favorites are when the kids and parents dress up in partner costumes or themed costumes as a family. We've had the Adams Family and families with the dad dressed as a mummy and the kids as ghosts. When parents are having fun, it makes it that much more special – getting the parents and kids having fun and doing things together in the community."
Bull asks the community to remember there are a lot of little goblins running around downtown on Halloween. "We want people to know to drive slowly," she says, "and we ask all local drivers to be extra safe that day too."
So hop on board Trick or Treat Transit and make this Halloween the best one yet.
Sponsored