In the fall, many parks close part or all of their trails until spring. This can make it hard for nature lovers and exercisers alike to get outdoors between October and April.
Thankfully, we have some very pretty year-round parks and trails right here in Lewis County. The following are a few perfect places for fall walks. So grab your coat and umbrella and don't let the rain stop you from going outside – the change of seasons is lovely to behold.
Lintott/Alexander Park
Chehalis
Lintott/Alexander Park is open year-round from 8:00 a.m. to dusk. It has paved trails, so you don't have to worry about mud, and covered picnic areas in case you need a break from the weather while you're out. There is river access as well.
Mossyrock Park and Taidnapam Park
Mossyrock
Mossyrock Park and Taidnapam Park are both east Lewis County fixtures with a lake as their centerpiece. Riffe lake is a popular spot during the summer, but it can be just as enjoyable in the off-season for gorgeous fall walks. Both of these parks close December 20 – January 1, but otherwise are open during daylight hours. Mossyrock Park has a half-mile trail and a 3.5-mile trail, while Taidnapam Park has more to explore. The parks are crowded on the weekends, but during the week you can find plenty of peace and quiet.
Mayfield Lake Park
Mossyrock
Mayfield Lake Park is a gorgeous recreational area in Mossyrock with the shinning Mayfield Lake as its centerpiece. Open during daylight hours, the lake provides year-round enjoyment. While the cool temperature in fall and winter may make water sports unappealing for some, the lake is full of wildlife putting on a show 365 days a year for the hiker or runner. Fishing is also year-round here, if you fancy taking a break from walking to try for trout.
Williapa Hills State Park Trail
Chehalis – Pe Ell
The Williapa Hills State Park Trail gives you lots of miles for your walking or jogging needs. It's completely paved from Chehalis to Pe Ell, with unimproved parts completing the 27-mile trail from Chehalis to Raymond. Walking this trail during the fall season gives you a chance to see wildlife including squirrels, hawks, coyotes and deer, as they prepare for winter. During both fall and winter, experience the beautiful changes in the season – from red and gold leaves gracing the path to icicles decorating the branches and bridges.
Airport Levee Trail
Chehalis 
If you need some groceries or something to prep your home for winter, the Airport Levee Trail is a perfect choice. You can get your exercising and errands done at the same time. Located near the Walmart shopping center, it's convenient. The entire trail is 3.5-miles, with 2 miles of gravel and 1.5-miles paved – no muddy shoes!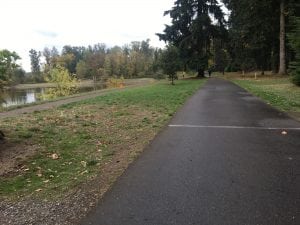 Borst Park
Centralia
Of course, Borst Park is well known and is open year-round, with nice paved trails for walking and running. They will close the park if the weather makes it unsafe for visitors – such as high winds – but otherwise, it's a great place to walk during the off-seasons. The south loop of the park closes in the fall and winter to cars, but stays open to pedestrians.
Seminary Hill Natural Area
Centralia
The Seminary Hill Natural Area has 2.5-miles of walking and jogging trails on the parks' 70 acres. These trails are not paved, so they could be muddy after a heavy rain. However, if you live near here, it's a great park to walk and enjoy a bit of nature.
Rotary Riverside Park
Centralia
Rotary Riverside Park is small, just 4.5-acres, but a great place to get a short walk in and enjoy the fall or winter weather. It has both paved and unpaved paths, so you may want to stay on the paved ones after a heavy rain.
Downtowns Throughout Lewis County
While not a park, don't forget how lovely a nice walk in any of Lewis County's historic downtowns can be. All the cities have fun historical areas with shops you can pop in and out of while you enjoy the changing fall leaves. Relish the holiday décor as we finish off the year and head into spring. Pumpkins, followed by holiday lights, keep things cheery as our skies turn dark.