It's like dog agility for horses. That's what my husband said as he watched my mare and I traverse a tricky obstacle in-hand at the Bolender Horse Park in Silver Creek. I've done dog agility – this is harder and more dangerous. Sometimes, my 900-pound mare is above my head; without proper training, she could end up on top of me. That's where Mark Bolender and his wife Lee come in – they teach people all over the world how to do mountain trail challenges safely. And they should know – they practically invented the sport.
From Jack of All Trades to Master Horseman
Mark Bolender grew up in Silver Creek. He has deep roots, raised near the property where his farm now sits. Yet, he says many people don't know that Bolender Horse Park is right here in Lewis County. Tucked away off Highway 12, it's easy to see why – unless you know where you're going, you'd never know this amazing place existed.
The Horse Park is not some childhood dream come to life, however. After high school, Mark went to Centralia College, graduating in 1974. He then continued to Seattle Pacific University and Washington State University. After graduating with licenses to teach 13 subjects, he taught for three years at the college level. He still periodically teaches geology and economics.
Mark has been a professional speaker, and paid his way through college as an artist. He's also a general contractor and owns NW Steel Design. So how did this jack of all trades finally get into horses?
How else? His daughter. "When I was 39-years-old my daughter wanted a horse, so we did the family thing," Mark shares, "and long-story-short, I got hooked on the mind game."
At that time, Mark was racing sailboats, water skiing on the circuit, snow skiing and participating in martial arts (did I mention he's a jack of all trades?). His first mare, Lady, bucked him off more than all the other horses put together, but he persisted. "Now it's mainly horses," he says. "I train, ride, give clinics, speak and build mountain trail courses; we've done three this year."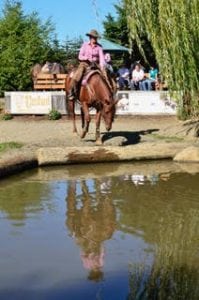 The mind game Mark mentions is what made him stick with horses. "I never planned to be a trainer," he says. "I never planned to be a clinician. I never planned any of this. However, I was fascinated with this mind game – intelligence versus instinct – and it had never been talked about or written about." This is where Mark's training methodology stems from, using the horse's natural instincts to train them to do as we ask.
The Mountain Trail Challenge Vision
In 2006, Mark got hooked on trail challenges. A trail challenge is a course that recreates what a horse and rider may find while out hacking through the wilderness, only in an arena. The team is judged on how they maneuver the obstacles, such as water, logs, bridges, gates, trenches (simulating a canyon), balance beams (simulating a narrow passage), teeter totter (simulating unsteady ground), rocks and hills. The course can be completed both in-hand (handler leading horse) and mounted. "It's the first discipline in the history of equine that will bring all breeds and all disciplines together, in the same show ring; it's never been done before," Mark shares. "In today's world, it's nice to have something that brings us all together."
In 2013, Mark and Lee made a decision that would change their lives and the horse world forever. "We saw something that started as a novelty show down in Oregon and decided to turn it into a discipline that could be performed globally," Mark says.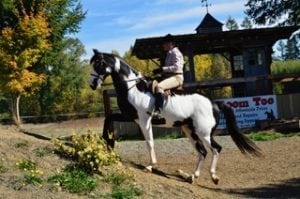 As their first step, they created the International Mountain Trail Challenge Association (IMTCA) and developed a rulebook, something that had not previously existed for the sport. Next, they had to train judges around the world. As a teacher, Mark had the skills for the task. "We had to ask what made a discipline a discipline and we knew that without a standardized rulebook, around the world, you had no discipline," he adds. "You can show here, in New York, in Italy, Finland – and you will be judged the same way."
Most people think of their trail horses as "just trail horses." As if their horse is not worth as much because it's not a fancy pleasure horse or hunter jumper. But mountain trail was created for these very people. "The beauty really comes out in the levels 2 and 3, but it started out and is for the recreational rider," Mark shares. "It's a discipline of horsemanship and it's kind of a combination of three-day eventing, dressage and reining. It's a beautiful discipline."
An Olympic Dream
Since they started their mountain trail challenges, Mark and Lee have worked hard to get their sport known around the world. They are the only people to take it out of the Pacific Northwest. Mark says the internet was key to gaining people's interest. "We could post a video on YouTube and in the morning, it could have thousands of views," he explains. "Using the information age was imperative to our success."
Mark has created over 30 courses in several countries including British Columbia, Germany, Italy and New Zealand. This year, they're holding their first regionals in October, with a World competition planned for the end of 2019 or early 2020. But that's not where they're stopping. "Our dream is for this to be at the World Games and then The Olympics in 10 years," Mark says.
With Mark and Lee's drive and talents, that dream will likely come true.