Strange things are happening in Historic Downtown Centralia. Creations have bubbled up on Tower Avenue and Locust Street, bloomed on North Pine Street and a seed has been planted on Magnolia Street. With cans of spray paint and Jedi mind tricks, GRRLilla Art secretly works to brighten the drabbest parts of downtown Centralia.
By turning every day, boring but necessary objects like electrical boxes into creative and colorful works of art, GRRLilla Art is changing the parts of Centralia that are often overlooked, yet can be used as a canvas for art.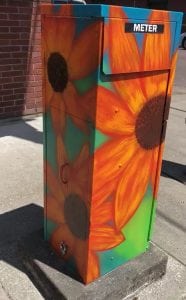 The anonymity is mostly for fun. "It would be much more difficult to slip in and make something bright and colorful for people to stumble across if people knew who GRRLilla was," GRRLilla says. "GRRLilla doesn't exist at all as far as anyone is concerned."
Hidden identities are also used to put the focus on the art over the artists. "Sometimes it's important to do things for the enjoyment it brings others without taking any credit for doing it," says GRRLilla. "The paint box contains one of the Men in Black "clicker flashy-thingies" that erases a person's immediate memory.  Just ask anyone who hasn't seen anything."
If you run into who you think might be GRRLilla Art and are able to escape the Jedi mind tricks and "flashy-thingy," GRRLilla Art has an uncanny ability to look completely innocent and slightly confused when asked about it later. "That ability has come with practice and GRRLilla has gotten very good at it," says GRRLilla.
The idea of secret artists creating a more colorful downtown has been percolating for a long time. "Centralia is an amazing and wonderful place and art makes everything even better," GRRLilla says. "The downtown is incredibly special, and GRRLilla has wanted to make it even brighter for several years. The time came to put all the talk into action, so the coffee/beer/soda/book/phone/remote/cupcake/computer got put down and GRRLilla picked up the paint, grabbed masking tape and drop cloths, changed into paint clothes and got started."
GRRLilla Art is all about sharing love, art and color with the community and will not reveal if they are artists by trade in "real life."
"Everyone is an artist," says GRRLilla. "Most people don't realize it – which is heartbreaking. Each person has something that sparks their creativity and joy. For some it may be cooking, sewing, working on cars or gardening. For others it's what is generally considered to be "real" art. If it's something that brings color, light, awe or delight to the world, it is art. GRRLilla may and/or may not be what others consider 'real artists.'"
GRRLilla Art feels that public art is important to communities. "It inspires people to start conversations and connect with each other," says GRRLilla. "It also helps people connect to their environment in a way that they wouldn't if it wasn't there."
An example of this is the excitement over the recent installation of the George and Mary Jane Washington statue. "People have come from all over to see it, take selfies with it and spread the joy of that moment when they are a part of something," says GRRLilla. "Public art smooths the rough edges."
"I think the art shows that something new and hip is going on down here," says Jennifer Krueger, Owner of Across The Street Antiques. "And it's fun! It catches you off guard and raises questions like who and when, but really it's about drawing your attention to the most utilitarian objects while hiding them in plain sight."
The project is still at the very beginning stages, but keep an eye out for more beautification of the drab. The next two "hits" have been planned and sketched and will be completed in September before the rain starts. "There are some special surprises planned for the spray park and downtown sidewalks that don't involve paint," says GRRLilla.
GRRLilla is acting with permission from the City of Centralia even though the city has no clue whom they are having this mutually beneficial relationship with, or if GRRLilla even exists. "Because GRRLilla has a special relationship with the City of Centralia, it's important that people not go rogue with paint, but step up and lose their identities with GRRLilla Art," says GRRLilla.
If others want to join in their efforts, GRRLilla wants to grow and is always looking for more people who want to play. It is easiest to make contact through their Facebook page.
If people would like to support GRRLilla Art by purchasing the special paint or supplies, monetary contributions can be made through The Centralia Downtown Association or at Anderson's True Value. "Just let them know it's for GRRLilla Art or even 'the group that paints things,'" says GRRLilla. "They have no clue who or what GRRLilla Art is but they are kind enough to be willing to help without asking questions."
Motivated by a love of the community, color and fun, GRRLilla Art lets the inner artist out to play by adding a little fun and mystery to downtown Centralia with color one corner, one box one visionary creation at a time.
For more information contact grrlillaart@gmail.com.