The therapeutic benefits of animals are apparent for anyone who has found comfort with a furry creature. Usually dogs, therapy animals are used to lift the spirits of people facing mental or physical challenges. One local group is using miniature horses and bunnies to offer joy to those with limitations.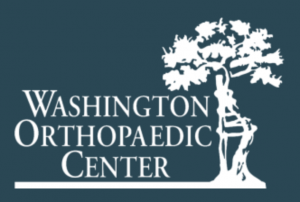 Victoria Smith of Toledo started Visiting Hooves Miniature Therapy Horses and Bunnies after her parents, who had lived in an elder care facility, passed away. "It was depressing to see the people who never got any visits from family," says Victoria. With five bunnies and four horses, Visiting Hooves brings joy to those who can't go out.
Victoria focuses on the elderly and memory care is her favorite. "Please visit someone with Alzheimer's today," she says. "They're the most forgotten. It makes me so sad when no one comes to visit them."
Victoria travels from Seattle to Portland five day a week. "It's go, go, go every day," she says. "I get more requests all the time." The non-profit visits care facilities and hospice patients – even at their homes – as well as schools and special events.
I accompany the group to visit Prestige Post-Acute and Rehab Center in Centralia where Victoria has visited every other Friday for the last two years. Chicky and Takoda are outfitted in their tennis shoes and matching halters. The bunny, Topaz sits in a basket with a blanket, trained to enjoy being petted.
The fuzzy Lionhead Dutch cross bunny was a garage sale find for Victoria. Rescued from a bad situation, Topaz was covered in fleas when Victoria got her. "Now she's spoiled," says Victoria. "She lives in my bedroom and gets on the bed."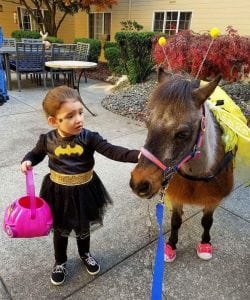 Ronda Sandoval is a volunteer with Visiting Hooves Miniature Therapy Horses and Bunnies. "My husband recently passed and I saw an ad for volunteers," Ronda shares. "I had horses when I was young and thought it would be good therapy for me too."
"Certain people really look forward to it or sometimes they forget who we are," says Ronda. "One lady we came to four or five times because she forgot we were already there." Victoria shares a story of a woman who wouldn't talk; she took one look at Chicky, grabbed her face and said 'baby, baby, baby.' "They are in good moods for what they're going through," says Victoria.
Isabelle Tafoya is Victoria's primary volunteer. The senior from Mossyrock High School joined to get more involved in horses. "At first I was nervous but now it makes me happy to see other people happy too," she says.
The twenty or so people in the dining room greet the animals with oohs and ahhs. "Oh how wonderful," says one man with all smiles. "Hey, there little one." Another woman greets Topaz, the delight on her face obvious. "What a little sweetheart," she says.
One man used to have bunnies and another brought photos of his bunny Sugar sitting on his shoulder to share with Victoria. Victoria shares that one man is normally in the hallway waiting for Chicky. "He'll hug her and cry," she says. "He just pours his heart out to the horse and really loves Chicky."
After visiting the dining room, the group walks the halls of the building with the animals. One woman was delighted to see the animals in her room from her bed. She tells Chicky how pretty she is and then expresses her thanks to Victoria. "It's really neat that you do this for people," she says.
One difficult part of this work is when people pass away. "Sometimes you only see people once or for a short time," Victoria says. She shares a story that occurred after one of her favorite people, Frank, passed away. Victoria found out later, through a letter, that his mother was another of her favorites in a different facility. "Now it's hard to get favorites but if I can make them happy while they're here, it makes it worth it," says Victoria. She visits people between animal visits. "I get attached to them," she says.
For two and a half years, Victoria did the project on her own before becoming a non-profit. She now visits thirty facilities regularly. Funding is through donations and sponsorships. She charges a small donation and mileage from the facility, although admits she isn't always paid. "The vet bills are high," she says.
Bill Hammond of Chehalis West and Sharon Care Center is the biggest sponsor. "Bill is outstanding," says Victoria. With regular support from businesses and people like Bill, Victoria is able to keep the horses with blankets and warm, cozy stalls.
With a compassionate heart for people and animals alike, Victoria and her volunteers spread joy to those who need it most. The exquisite care given to the animals is apparent by their calm demeanor and tidy grooming. The forgotten communities in care facilities benefit greatly from the work of Visiting Hooves Miniature Therapy Horses and Bunnies.
Visiting Hooves Miniature Therapy Horses and Bunnies
P.O. Box 321
Toledo, WA 98591
360-333-7614
info@visitinghooves.com