In the imagination of most Americans, the word farmer brings forth an image of an older man in flannel and overalls on his tractor. Mokey Skinner is not the typical farmer. Petite and spunky, this homesteader has farmed her almost six acres at Coffee Creek Community and Gardens for the last ten years.

Mokey recently learned a new skill as a grant writer and was awarded a $9,000 grant from The Tilth Alliance and Human Links Foundation for a drainage project. Dedicated to the community, Mokey made sure those funds stayed in the community by using local labor, machine rentals, plants and supplies from small businesses. "Usually farming is not the most lucrative," she says. "You have to be really aware of your resources. Being able to have that money upfront and focus those dollars in a way that could be an impact to our community and economy is great. If our money leaves here, it's not coming back."
Coffee Creek Community and Gardens offers WWOOF volunteer opportunities. "I think that growing farmers is every bit as important as growing food," says Mokey. "The average age of a farmer in the U.S. is getting older. It's hard work. We need young bodies doing this. We also need fresh minds. We get into our ways about things and maybe stop trying new things and cultivating new ideas and shifting paradigms."
"The farm is so ridiculous and wonderful all the time," shares Mokey. The summer before last, she didn't have any farmer-types so she was taking just about anybody. "We ended up with twelve people on the farm," she says. "A super cool couple came, then three sisters from the Midwest." It turned out the sisters were younger and one was a teenager. There were teenage boys there with another group. "We ended up with so many people it was more like herding humans over farming, all the humanity and especially the teenagers! Finally I picked a big project to snap everyone out of their dramas, and rented a wood chipper. Forestry, it is! It was an interesting season."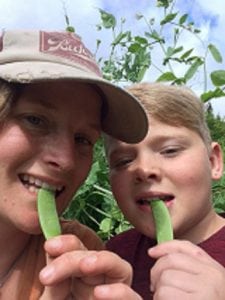 Mokey is also passionate about food sovereignty and accessibility. "Even if someone is not going to be a farmer, knowing how to grow food is a good skill to have," she says. "We all live on this planet but we don't all live a land-based lifestyle. So opening up to let others see what it is to be close to the Earth and see what it is to live on land with animals. It's also helpful to me. I share experience and skill and they can share their energy."
Coffee Creek Community and Gardens provides opportunities to learn farm skills, which can otherwise be challenging to find. "Part of my mission is to hold space for those who may have more challenges integrating into rural communities that are often quite conservative. I hope to offer a space where folks can learn and grow while taking into careful consideration how different this journey is for all of us," says Mokey.
On Fridays through September you can meet Mokey and buy some of her beautiful and tasty produce at The Community Farmers Market at Chehalis from 4:00 to 7:00 p.m. This fun new market is in its first season and is open later to accommodate working families. "Our long-standing market is on Tuesdays in the same spot from 11:00 a.m. to 4:00 p.m.," says Mokey. "While that's a well-loved market there are a lot of folks who don't get to come. Food accessibility is so important and we are making sure that the rest of the community has access to fresh food."
The atmosphere of the market is pleasant, cool in the shade, accompanied by lovely sounds of live violin music. There's a full array of groceries to be found, including hot food, gourmet cheeses, bountiful produce selections, fresh eggs and sweet jams. "It's a nice way to end the week," says Mokey.
"Folks who appreciate good food and a thriving local economy could look to something they use every day – food – to boost the local economy," says Mokey. "Support the people who are really working to make sure we have an agricultural community and keep the things we love about Lewis County." She encourages everyone to visit the local farmers market, find a CSA or search out a farm in your area. "I bet most people here live within a mile or two of a farm," she says. "Figure out what you're using regularly and find a farm and visit them."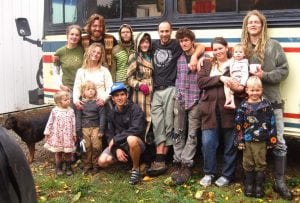 Coffee Creek Community and Gardens still has CSA shares available through October. Mokey's popular homegrown turkeys can be reserved with a deposit. Some are still available but move fast, because they do sell out. She also offers a harvest dinner box just in time for the holidays. Eggs and meat like chicken, duck, rabbit, pork and lamb are also available on the farm. "Come, buy stuff from me," she says. "I love it when people come to my farm."
Coffee Creek Community and Gardens
P.O. Box 1525
Centralia
360-807-4949
CoffeeCreekCommunity@gmail.com