Morton and Randle are beautiful areas to live in but their seclusion doesn't offer many activities for young people. The Morton UP Coalition was formed to strengthen the community, promoting confidence and integrity in youth. The coalition works to provide educational opportunities, role models and pro-social activities for all.
This community coalition works to help students in the classroom and the community. "It's nice to have the money to get the programs put into schools to increase the self-sufficiency of kids," says Casey Peters, Senior Community Outreach Worker with Lewis County. This enables schools to put programs in place even after funding has run out. Prevention work used to be driven by fear-based tactics but they now use evidence-based programs.
The Morton UP Coalition is partnering with the Morton PTA for a Back to School Bash BBQ on August 25 at 12:00 p.m. at Morton Elementary School. The event is open to eastern Lewis County families and will have kids activities as well as information for parents on community programs. They will distribute school supplies to all students at the event, thanks to generous community donations.
Morton UP started a Social Norms Campaign based on positive prevention messages. Students created a radio PSA and posters about the dangers of drug use. "We take statistics; that even when you hear things, it's realistically less," says Peters. "It's not everyone or even most." Showing kids what a low percentage of their peers are doing risky behaviors helps them understand positive social norms. They also address issues like bullying and texting and driving.
Morton seventh and ninth-graders are taught Life Skills and Project Success Curriculum. These classes help students with substance abuse education and decision-making skills. They also learn how to handle anxiety and stressful situations. "We go a little deeper than 'drugs are bad,'" says Joe Kiehn CDP, Student Assistant Professional.
Led by Kiehn, the Morton Prevention Club helps kids learn leadership skills. At the start of the year, the group brainstorms what they want to accomplish and they participate in Red Ribbon Week in the fall. "We go in the lunch room and do activities to bring awareness of drug and alcohol dangers," says Kiehn.
Many schools focus on prevention programs and lack treatment but Kiehn can do chemical dependency assessments on kids in need. "They don't have to go into town," he says. "I can do assessments right there and start treatment if that's what is needed."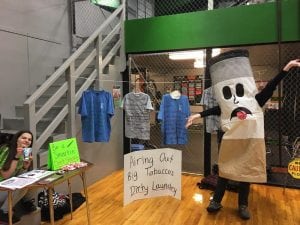 Kiehn sees major turnarounds. "Last year, I had a high school kid realize that his anger was getting out of control," he shares. Kiehn helped by assisting him with stress coping skills. Last year he also had a kid that wanted to quit smoking. They called the treatment hotline together and worked out a plan for success.
Working with teens is always an adventure. "One day there was a kid playing his music really loud and when I asked him to turn it off, he started lip syncing to it," Kiehn shares. "I couldn't say anything else because it was so funny."
The Morton Prevention Club presents their projects at The Annual Youth Prevention Summit at Great Wolf Lodge, where they compete with other prevention groups. "I thought for sure our group would forget their lines – they didn't practice it but once before – and during the presentation they were right on the whole time," Kiehn shares. "They really stepped up and pulled it off." They're reward: a trip to the water park.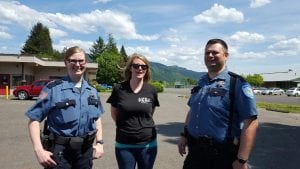 Kiehn credits the ESD 113 for helping make the Morton UP Coalition successful. "They help with steering me and training me," he says. "EDS 113 is an excellent group of people."
Morton UP's new project is a mentoring program in partnership with the Morton Police Department. The program will match kids age 12 to 18 with community adults. "Mentoring is so important for kids," says Peters. "Just having that one stable adult can really change the outcome in their lives and do a lot to create resilience."
To join Morton UP and possibly change a young person's life, contact Casey Peters. They're always looking for volunteers. Meetings are held on the third Thursday of the month at 3:00 p.m. at Centralia College East.
"We have some really great volunteers," says Peters. "They do a lot of planning and partner with the schools. We're a small group and we're always looking for new people."
Morton UP!
Casey Peters, Coalition Coordinator
360-740-1424
casey.peters@lewiscountywa.gov