On a busy Saturday afternoon, sweet strains of song drift from Dawn's Delectables in Centralia. Inside the open doorway, a young woman with a guitar sings as her husband tweaks the sound system. Three small children, half the usual crew, "help" then disappear with their father.
The singer is Clarissa Gifford, a growing presence in Lewis County's musical world. Her husband, Doug, and their family of six children are her biggest fans. "Most people are shocked when they hear how many children I have," said Clarissa who recently turned 38. "Their usual response is, 'Are you kidding me?'"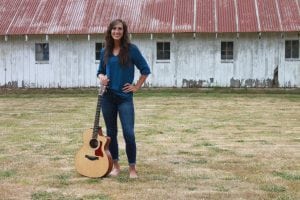 With six children and a hostess job at Applebees, Clarissa has plenty to keep her busy. Still she finds time to perform at restaurants, weddings, birthday parties, graduations and backyard barbecues. She also performs at Garlic Fest and the Newaukum Valley Farms dinner, and is known for monthly performances at Jeremy's Farm to Table in Chehalis. "I go wherever they will have me," she says.
Although Clarissa grew up singing, it took an accident to change her focus in life.
Several years ago Clarissa was playing wiffle ball with teenagers in the gym at church. She was running full speed to tag out the boy in front of her when he tripped and fell. She tripped over him and plowed head first into a brick wall.
"I don't remember any of this," Clarissa said. "It knocked me out cold. I broke my face in five different places and ended up with an ambulance ride to Centralia and then to Harborview. Several weeks later I had to have my cheek bone repaired. I had a really severe concussion that kept me in bed for a couple of months not being able to do anything. Every time I got up, I'd get sick because of the side effects of the concussion." At this time she had four children.
During her time in bed, "I spent a lot of time thinking and a lot of time listening to music," Clarissa said. She had always wanted to play the guitar, but now it became an obsession.
"I don't think I have ever had as overwhelming a desire to do something as I did to learn to play the guitar after that accident," Clarissa said.  "I just had to. It was like I was being pushed to do it."
After giving her time to heal, Clarissa's husband bought her a guitar for Christmas and she started teaching herself to play in January. In June she got a ukulele for her birthday and learned to play that as well.
A few months later, Clarissa went to Jeremy's with a friend who'd brought her ukulele. Jeremy Wildhaber asked them if they knew Somewhere Over the Rainbow. They did. Her friend played her ukulele while Jeremy and Clarissa sang together. She sang one version and he sang another. "It was terrible," Clarissa laughed.
Then Clarissa asked Jeremy if he hired performers. "Let's see what you've got," he responded. With sweaty hands, she went to the piano and sang a few songs.
"Yeah, let's give this a try," Jeremy said in approval.
She's been coming back to sing for the past five years. "I will be forever grateful for him because that really opened the door for me," Clarissa said. "That's where people first heard me sing."
The most incredible event for Clarissa was performing at the Lewis County Concert series. She was the opening act for Franc d'Ambrosio who played the Phantom of the Opera on Broadway for ten years.
For twenty minutes Clarissa took center stage at Corbet Theater. She sang five songs, one of them an original about taking children on a road trip. "It was a great experience," she said.
Writing songs isn't easy for Clarissa. She has written only ten or so, working them into her regular repertoire of about 300 songs. Her style is a mix of Indie, folk, country and pop. "I love all genres of music," she said, "especially the '60s and '70s. People ask me if I'm going to make a CD or try out for a show like The Voice. I love doing the local stuff, I really do, but there is a part of me that would love to go a little further. I'm the only thing holding me back because I have a fair amount of self-doubt but I've gotten to the point where I'm comfortable with pushing myself a little further."
Hopefully someday we'll see her face on the cover of her own CD. In the meantime, look for Clarissa Gifford on Facebook or on Instagram under tishyrain.