Michael O'Neill's treasure-hunting story began in the forests of the beautiful Pacific Northwest. His family owns Hemphill-O'Neill lumber and timber company. The company was started by his great-grandfather, Harold O'Neill, and Alan Hemphill in 1947. Their sons also partnered and so on. Now the Chehalis company is in its fourth generation. The company currently owns over six-thousand acres, mostly in Lewis County.
Stewardship is important to Michael and his family. "We don't manage it just for financial benefit for us," says Michael, the company's Vice-President. "We make sure we're protecting habitat, for fish and wildlife with clean air and water, as well as recreation opportunities and community benefit." Much of the timber the company harvests today is exported to other countries.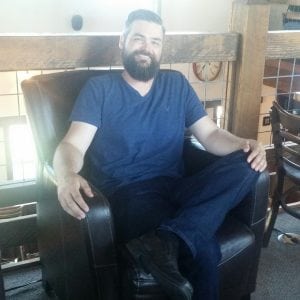 Michael loves his work but he lights up when discussing his true passion – gems. As the owner of Lapidary Artisans, Michael creates stunning cut gems and jewelry pieces. The precision and intricate details of his work are breathtaking. "I love details and working with my hands, so it's a perfect fit," he says.
Michael's passion for rocks and gems started while wandering the woods with his family. "I have been a rockhound forever," he says. "I used to go with my grandpa hiking. I was always fascinated with the mountains, all the rocks tumbling down and all the little treasures you can find. I've been picking up rocks as long as I can remember."
Michael expressed his entrepreneurial side when he was eight-years-old. He set up a rock stand outside his house. "I wasn't selling lemonade; it was the pebbles that I had found," shares Michael. "I didn't do very well but I didn't get discouraged. I think the only thing I sold was some calcite I had crushed up and sold as 'medicine.' I hope someone didn't really eat it. I guess I have always been a rockhound and an entrepreneur, so what's better than to combine the two?"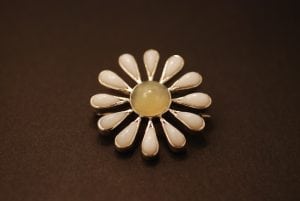 Michael really got started in lapidary arts after purchasing an engagement ring for his wife Amanda. "That's what really got me into gemstones – the ultimate rocks," he says. "From that point on, I developed a real curiosity about gemstones in particular. I starting watching the gemstone show shopping network all the time. I used to watch that show for hours and I bought a few things. Then I started watching jewelry television and I bought a few more things. And pretty soon I had all these things and I thought, yeah, I should probably do something with all these things. So I started learning how to make jewelry."
Michael thought some of the stones he came across looked really bad and felt he could do a better job. He started learning how to cut and facet gems, and put himself through two different gemology programs to really understand what he was doing. Now a USFG Certified Master Faceter and Gemologist-FCGmA, he loves to share his passion with others.
Mining his own stones is also something Michael really enjoys. "I like to dig my own stuff and believe in ethically sourced stones," he says. "If I can pull it from the ground, I know it didn't harm anybody else. It's very important to the younger generations that they're not harming other people just for a luxury item."
One of his favorite places to dig is the high desert in Oregon. Here he finds one of his favorite gems: sunstones. "Oregon sunstones are completely unique and extremely challenging from all the properties and inclusion they have inside of them," says Michael. "I feel very successful every time I finish one." He's currently planning trips to Montana for sapphires and California to dig for tourmaline. "I love looking inside a rock and seeing what it could be," he says.
Michael recently fulfilled his dream of visiting the gemstone industry mecca in Tucson, Arizona where all the miners in the world bring their material. "It was a blast," he says. "I got completely overwhelmed. They had everything. I had to buy an extra suitcase just to get my rocks home."
Shining his light through a green garnet from East Africa, he excitedly discusses its copper-colored inclusions and green end. It's called a "watermelon."
"It will be one-of-a-kind when it's finished," he says.
It's easy to see why he finds them appealing, as I inspect a bag of multi-colored sunstones he dug himself. Michael's talent for turning a pretty rock into a sparkling gem is remarkable and extraordinary. The masterpieces he creates are stunning.
"You've heard of gold fever," Michael says, "it's the same thing. I think all miners get it or they wouldn't do what they do. Nobody in their right mind would spend most of their lives in a dirt hole looking for buried treasures. You're either an inch from a million dollars or a million inches from one dollar. That's a phrase someone coined but it's true – you just never know."
Lapidary Artisans
michael@lapidaryartisans.com
Hemphill-O'Neill
office@hemphilloneill.com