Each week over the summer months, hundreds of trail runners in the Pacific Northwest are discovering the same thing: there are few places in the world as beautiful to trail run as Mount Rainier National Park. Whether your route takes you to the glaciated summit or, more than likely, running the ridges, forests and river valleys below, the 260 miles of maintained trails are transforming the lives of runners with each stride. What makes Rainier amazing is that runners of any age and ability can find a breathtaking trail, making our iconic mountain the perfect playground for a jog.
Stuke Sowle is one of those local runners who often hits the trails around the towering peak. He has completed the 93-mile Wonderland Trail run in less than 48 hours a handful of times, including as recently as August of 2018. Known as "Sir Elevation" to the outdoor community of Western Washington, a moniker earned by his incredible feat of running 3,500 miles and gaining a million feet of elevation in just one year, Stuke knows the trails of Rainier better than most.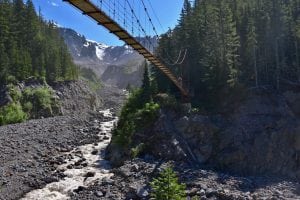 "The mountain is such an iconic feature of the Pacific Northwest so to have it as a constant backdrop to your run is incredible," Sowle described. "What stands out to me most is the diversity a runner can travel through on the flanks of the mountain. From temperate rain forest, to sub-alpine meadows to an alpine setting on some of the higher trails on the mountain – all in one run."
Mount Rainier's trails give you everything you could want on a trail run. Towering trees reach to the sky, swinging suspension bridges span glacial fed rivers and unique views of the summit emerge on ridge lines, all of which can be found in just a five-mile section.
When searching for a place to start your Mount Rainier trail running, there are dozens of destinations to consider, which may seem overwhelming. Because we wanted to hear from an expert, we asked Stuke what trails he thought would be best. Two immediately came to mind:
"I recommend Burroughs Mountain and the Glacier Basin Loop out of Sunrise," Stuke shared. "This loop has a bit of everything and an up close view of the mountain from the Burroughs summits."
"I also suggest the Spray Park Loop out of Mowich Lake. This is a similar route in that you have a bit of everything on the run."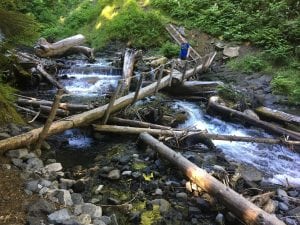 The Spray Park Loop is 16 miles roundtrip, gaining a leg burning 5,000 feet of elevation as you explore the oft-overlooked Northwest corner of the National Park. With wildflowers and mountain goats, waterfalls and glacial views, this trail will quickly become a favorite, despite the toughness. The Glacial Basin Loop is not as long or as steep, coming in at 11.5 miles round trip and gaining just 3,000 feet. The views are world class, the trail is super fun to run and the entire region entices you to keep running a bit further to see the remarkable sights around each corner.
For those looking for something shorter, the Skyline Loop out of Paradise is stunning, as is the route from Reflection Lakes up to Paradise. Both of these runs will have some elevation, but the views are rewarding enough that you may not even notice as you take in Rainier's grandeur.
Those looking for even greater views should consider driving to the Sunrise region of the park, as the area's trails give off some of most majestic and memorable views of the mountain.
Another incredibly fun run, with a bit of route finding, is the run up the Westside Road, to the Tahoma Creek Suspension Bridge and then continue along the Emerald Ridge Loop. This 14.2-mile trail, with just 3,000 feet of elevation gain, will give you views of Mount Rainier not seen anywhere else.
While these trails are all amazing and should be explored, you don't have to follow our recommendations. Mount Rainier's 260 miles of trail are almost all runnable, giving you summer adventures for years to come. We highly recommend starting off easy and running the popular trails at Longmire, Paradise and Sunrise before diving deeper into Rainier's immense wilderness. Once you have a feel for the land, the only limit for trail running here is your legs, the trail and the weather.
"Always check trail reports and the weather forecast before heading out to the mountain; the park website is a good place to start, especially if going before August," Stuke reminds all runners and hikers. "The early summer trails may have lots of lingering snow that might require traction. Weather can come upon you in a hurry and snow flurries aren't uncommon even in the early summer/early fall months, so be appropriately prepared for that."
The National Park Service has a fantastic website with all the trails at Mount Rainier, letting you pick and choose the perfect running adventure on your next day off. As always, nature is unpredictable and can be dangerous. Always stay safe in the backcountry and bring plenty of food and water, ensuring that you can keep hitting the trails at Rainier each summer and hopefully share the awesomeness with others.