Have you ever met a tiny cowgirl in a pink shirt with the face of an angel who could hog tie you in two seconds flat? Fierce and brave, these Junior Rodeo girls show grit and determination in a sport that's not for the faint-hearted. With a cloud of dust and speed, these pint-sized rodeo stars are tough stuff. They're chomping at the bit to show the world their size doesn't determine their skill and bravery.
Taylor Jo Johnson
Adna third-grader Taylor Jo has come a long way in Junior Rodeo in the six years she's competed. At only two, her mother, Sarah Johnson, would lead her on a "big ole horse" during competitions. Since then, she graduated to her own pony, Iceman. Now, at age nine, she rides on her horses Ali and Rango.
Her mother estimates they spend over fifteen hours a week in the barn, at lessons or riding. Taylor Jo's favorite events are barrels and calf riding, "Because Ali goes really fast," she says. "It's fun because you get to ride horses and you meet a lot of new friends."
Taylor's family does a lot to support her in the uncommon sport. "It's good for them to learn the lessons rodeo teaches them," says Sarah. "It is a dying breed but I think it's getting out there a little more." Sarah also participated in rodeo when she was young and was Rodeo Queen in 2000. "Rodeo kids are the hardest working kids," says Taylor Jo's grandmother, Geri Anderson Griffith. "They're up at 5:00 a.m. feeding and caring and riding their horses. The amount of work they do is amazing."
Madison Teeter
Eleven-year-old Madison Teeter has owned her horse Dixie for almost a year. "Rodeo is a lot of work. Caring for horses requires time before and after school," she says. "My favorite part is when we do well." She doesn't enjoy the long trips her family makes during the summer rodeo season but uses that time for her other favorite pastime; reading.
Madison's interest in rodeo started with a friend who was involved. "If you do good, it's the best feeling; it gives you a boost in confidence," she says. "I've also learned that you have to respect your horse and not get nervous so your horse doesn't get nervous too." She also enjoys the friendships made in rodeo. "I have a lot of good friends there," she says.
Isabelle Teeter
Isabelle Teeter, age eight, recently got her first horse – a pony named Tucker – as a Christmas present. "I thought it was the neighbors' pony at first," she says of the surprise. Isabelle enjoys calf riding because "It's really hard. They buck a lot and you don't know when they're going to turn." Her small stature doesn't discourage her from the toughness of the task. "I win," she says of calf riding. The other girls chime in that she is indeed the best at staying on the adolescent cows.
"I think she likes the adrenaline rush of it," says her mother, Stephanie.
"It's fun because I get to run. I like to go fast," says Isabelle.
This tiny cowgirl's advice for kids looking at the sport of rodeo is, "It takes a lot of practice and dedication. You need experience." She's had a winning season with awards in calf riding and goat flanking.
Alivia Lusk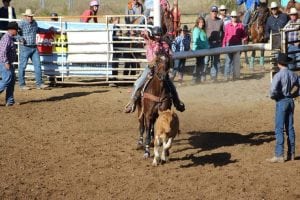 Twelve-year-old Alivia Lusk has the Wild West in her blood. This Chehalis Middle Schooler has been in Junior Rodeo for six years with her horse Bugsy. She has roped for a few years but just started competing. "I like it because it's new and fun," she says. "It's a challenge to try and get the cow and throw at the right time."
With five horses in the family, they spend many hours a day taking care of horses and training for rodeo. "It's not easy," she says. "If you're doing goat tying, when you get off you can fall really hard and you have to tie its legs. That one is the hardest." The confidence this young lady has gained from Junior Rodeo is immeasurable. "I used to be shy when I was little but I'm starting to not be so shy," she says.
In a sport where seconds matter, Alivia would like to accomplish roping better and get faster times. "She always tries to be better than her last run," says her mother, Shannon.
Alivia adds, "At least one percent better. I have improved from last season."
With roping lessons once per week and four rodeos under her belt this season, "We are always in the barn," says Shannon. "It definitely is giving her more confidence, not just on her horse, but in life."
Events are held locally at the Ethel Event Center. There are up to nine weekend-long junior rodeo events under the Northwest Junior Rodeo Association in a season across Western Washington. It's a sport that offers scholarships and college opportunity.
"What these kids do – every one of them – for their animals, it's amazing," says Sarah. As each other's biggest cheerleaders, the girls have a camaraderie that's remarkable. "They compete against each other – forever fierce in that competition – but they will always help each other out," says Shannon.