The Centralia-Chehalis Chamber of Commerce and the Lewis County Quarter Milers present The Hub City Car Show on Saturday, August 25 from 9:00 a.m. to 4:00 p.m. in Historic Downtown Centralia. With a beer garden, vendors, delicious food and a full spectrum of vehicles, this summer event is not to be missed.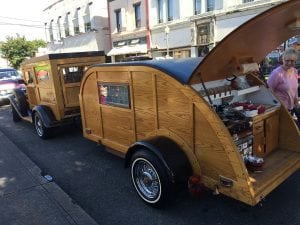 Bring your friends and family to see cars from every decade, old and new, from near and far. You'll find three-hundred cars situated on a five-block radius on Tower Avenue. This is a major attraction, drawing thousands of visitors to the historic downtown area.
This free event is family friendly, with fun for all ages. There will be a Kids Zone with bounce houses, raffles, awards, prizes and games. You can explore the cars and chat with friends while the kids play.
Downtown businesses will be open for shoppers and hungry visitors. "It's a great way to support the 'Choose Local First' campaign," says Cecilia Jimenez, Marketing Manager of the Centralia-Chehalis Chamber of Commerce. "It really is about supporting our community and helping it grow, and our business community as well."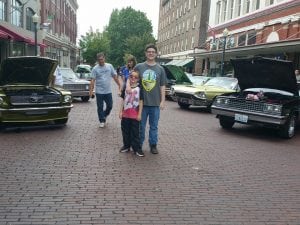 Don't miss the delicious kick-off barbecue at 5:00 p.m. on Friday, August 24 at Ken Stedham Sales and Service, 515 W. Main Street. "It's a really big hit with everybody," says Jimenez. And be sure to stop by the beer garden which will feature local beer and cider provided by McMenamins Olympic Club and Dick's Brewing Company.
The Centralia-Chehalis Chamber of Commerce is partnering with The Centralia Rotary, splitting proceeds between the two organizations to support their various scholarships. "It's really awesome that we get to work with other organizations in the community," says Jimenez. "The Rotary does fantastic things, not just in our community but also outside our community. That's what the Chamber is all about."
All funds raised by the Centralia-Chehalis Chamber of Commerce will go to the Rob Fuller Scholarship. Their efforts have raised over $10,000 in the last few years. "It's really exciting," says Jimenez. "The number of kids that apply for scholarships fill binders. It's really fun. We have businesses and organizations partner with us. Last year, Visiting Nurses did a $1,000 scholarship for a student going into the medical field. The proceeds from our events go to scholarships for Centralia, Chehalis and Adna students."
The car show entry fee is $15 and the vendor fee is $50, with applications accepted until the event. Proceeds are split between the Centralia-Chehalis Chamber of Commerce and the Quarter Milers. The fee supports two good causes and exposes participants to a wide array of visitors. It's well worth the investment.
The highlight of the event is the annual KITI/Live 95 Car Giveaway where one lucky key holder will drive away in a classic 1975 Corvette. "Every year for the last few years KITI/Live 95 does the key turning ceremony for their car giveaway at the Hub City Car Show," says Alicia Bull, Executive Director of the Centralia-Chehalis Chamber of Commerce. "Steve Mohney will be doing it again this year. It's exciting to see whose lucky key turns over the engine and drives home in the car." Enter for your chance to win the lucky key at local businesses now.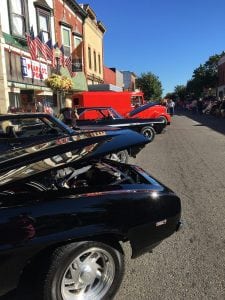 As if cool cars, interesting vendors and delicious food weren't enough, there are also amazing goody bags filled with fun items and coupons from local businesses. This year the bags are stuffed with gifts from nearly fifty area companies.
This isn't just great for the three-hundred people who get swag bags from the car show, it's also an affordable way to advertise. "We have local businesses donate items," says Jimenez. "It's no cost to them, aside from the donated materials, so it's free advertising. The people that attend and enter their cars are from all over Washington and Oregon, and even California. We send out an entry form to everyone that was here last year, over three-hundred people. Businesses can advertise to a really wide, vast audience."
The fun lasts well into the night. The Centralia Police Department has granted special permission to allow cruising in Centralia the night of The Hub City Car Show. Bring the family and share in the fun of this amazing historic Downtown Centralia event.
Centralia-Chehalis Chamber of Commerce
500 NW Chamber of Commerce Way
Chehalis