If you're like me, when you think about kayaking, you think about the ones that fit tight around your waist. It can be a scary thought if you fear getting trapped in a boat. But what I didn't know for a long time is there are many different kinds of kayaks. Here we'll cover the easiest ones to start with.
To start out in calm waters you'll want to use a "sit-inside" where the opening, or "cockpit," is large so you don't feel like your legs are trapped. You can also use a sit-on-top, which are just as they sound. You sit on top and there is no cockpit opening. It's kind of like sitting on top of a surfboard or stand-up paddleboard. Sit-on-tops are perfect for those who feel claustrophobic about having their legs inside the boat.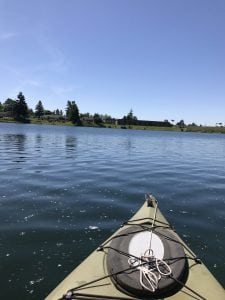 These are the most affordable kayaks with prices running from about $150 and up – sometimes on sale for even less. You can also get pretty fancy with your kayak, such as a fishing kayak that has foot pedals so you can pedal rather than paddle while holding your fishing rod. There are different length kayaks as well and, of course, a wide range of prices. Don't forget to look for used ones if you're thinking of buying. However, one of the best ways to find out which kayak would be right for you is to borrow from a friend or rent one. The kayaking community is always ready to help others learn.
Make sure to wear a life vest. Just because you aren't in a motorized boat doesn't make the water is any less dangerous. And it's the law.
You can enter a kayak from a dock. The easiest way is to have someone hold the kayak for you to stabilize it as you get in. You can also enter from a boat ramp or beach and just push out. The sensation of suddenly feeling weightless when you first get out on the water is almost indescribable. You want to sit and enjoy it for a few minutes before you try paddling.
You'll be using a single paddle with blades on both ends. Former kayaking guide, Sherri Keepers, explains what to do. "First, lay the paddle across the cockpit, hold your arms straight out, then lower to paddle. Hands should be at shoulder distance. This is not only for the best stroke, but is kinder to your body!" Then relax; you don't need to grip too tightly.
Put one side of the paddle into the water – not too deep, you're not digging in. Then simply pull it toward you. Lift it out and repeat with the other side, twisting your body slightly to each side as you put the paddle in the water. And off you go!
Keepers says to slow down, put a paddle in the water (again, you don't have to dig it) and push. You'll want to do this on both sides. To turn, push the paddle forward on the side you want to kayak to turn.
Now that you know how to kayak, there are plenty of opportunities for practice in Lewis County. There are several lakes to try out your new sport. Don't think you have to go to a large lake, either. The smaller ones offer a chance to get your methods down while staying close to a shoreline.
Small lakes are a good place to start so you don't feel overwhelmed by the size of the water. Plummer Lake in Centralia or Carlisle Lake in Onalaska are great spots for your first kayaking experience. Other lakes for an easy, smooth ride are:
After getting familiar with flat water kayaking, you may decide you're ready to try something more adventurous. If you buy another kayak, consider keeping your starter – that way you can invite friends and family out to share in the fun.
There are many benefits to kayaking. It's a great way to get out on the water without spending thousands of dollars on a boat. It's easy for any age to do. It's a great physical workout. It allows you to get up close and personal with nature in a way that you would not otherwise be able to. You can explore the beauty of small lakes and lakes that don't allow motorized boats. And it's a fun activity the whole family can do together.