For the ninth consecutive year, several of the best fastpitch players in the Northwest will make their way to Centralia. All with the same goal in mind: Get college programs to notice them.
The Lewis County-based Fastpitch Northwest will hold its annual College Exposure Tournament at the Northwest Sports Hub and Borst Park Softball Complex July 24-26.
The high-profile tournament is the culmination of a whirlwind two months for Fastpitch Northwest director Ken Olson, assistant director Tom Mauldin and their staff.
"It doesn't get much busier than this," said Olson said, who guided Pe Ell/Willapa Valley High School to the Class 2B state fastpitch championship in 2017 and has won more than 350 games as a high school coach over the last 25 years. "We put a great deal of time in selecting the teams so they will be equally competitive and creating the best matchups the college coaches are seeking."
The tournament will feature the premier high school fastpitch players from Washington, Oregon, Idaho, Colorado, Montana and Hawaii.
"Starting in early June, our staff heads out to Idaho for the first Prospect Evaluation Camps," Olson said. "During the camps – that are invitation only camps – we test our players in many different categories such as base-running time, arm strength, bat exit speed, pitchers speed, catchers' pop to pop time and to top it off, we test them using the NIKE Sparq tests in 20 yard sprint, Powerball throw, 30 foot shuttle and vertical jump. Once the camp is over, our staff invites the best of the best kids to our College Exposure Tournament."
According to Olson, more than 40 colleges have committed to sending members of their coaching staff to this year's tournament to evaluate talent. This year's list of schools include Western Washington, Central Washington, Portland State, Oregon Tech, Concordia University, Northwest University, George Fox, Western Oregon, Lewis and Clark, Pacific Lutheran, University of Puget Sound, Pacific, College of Idaho and Linfield, among others.
"There are only a few ways for softball players to be recruited to play college softball," said Olson. "College camps are a great way, summer travel teams playing in high level exposure tournaments and programs like our Exposure tournament."
Local players from the class of 2019 who were selected to participate at this year's tournament include W.F. West centerfield Taylor Barker, Centralia catcher Hannah Porter and Rochester pitcher Delany Glazer.
Additional local participates include Adna sophomore pitcher Haley Rainey and incoming Pe Ell/Willapa Valley High School freshmen pitchers Olivia Matlock and Dani Shannon.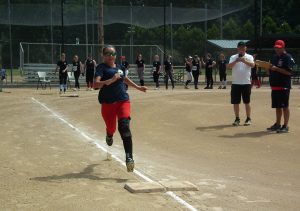 "We actually rank each player by position before I start the process of organizing teams," Olson said. "Once ranked, we place up to three pitchers on a team, at least two catchers and finally four infielders and three outfielders."
A total of 12 teams, comprising of 12 players each, will compete in the tournament. The event will consist of two age brackets – one featuring 2019 and 2020 high school graduates and the other made up of players who will graduate in 2021, 2022 and 2023.
Each team will play five games over the three-day tournament with two games each day on July 24 and July 25 and one game on July 26.
Games will start at noon on July 24 with additional games on July 25 and July 26 starting at 9:00 a.m. and 11:00 a.m., respectively.
"They better be ready to compete hard as they're being recruited and everyone playing has the same goal to be recruited," Olson said.
In addition to the lengthy team selection process, Olson and his staff are also responsible for scheduling games, maintaining fields, assigning umpires, scheduling volunteer coaches and ordering jerseys and awards.
"This is the most stressful time for Tom and I with all that goes into our tournament," Olson said. "But the most stressful thing I deal with is late entries. People are busy and sometimes forget to register. It really puts us behind the eight ball. No matter what, it will be a fantastic tournament."
Since its inception nine years ago, Fastpitch Northwest has helped hundreds of players transition from high school ranks to playing college softball with alumni signing on to play at Division I programs such as the University of Washington, Boise State, University of Oregon and Oregon State University.