We all deserve a chance to experience the beautiful natural wonders around our region. From the snowy summits of the mountains to the lush forests and pristine waterways, the great outdoors of Lewis County make for the perfect post-work or weekend getaway and help define who we are. While we all know that the stunning scenery of the region is always pleasing to the eye, escaping into the wilderness is also proven to have some serious health benefits.
You may have caught the numerous news stories linking outside time with improved mental health and overall happiness. Those studies have been proven around the world, with leading research in the field coming from overseas.
In Japan they call it Shinrin-yoku, or "forest bathing." Forest Bathing is a form of therapy that supports health and wellness through immersion in forests and other natural environments. Study after study has demonstrated that those who spend a few hours a week outdoors enjoy a wide array of health benefits. Time in nature is shown to reduce hypertension and respiratory illnesses, as well as improve moods, restore mental fatigue and help focus. In case that wasn't enough, studies have also shown that those who feel like a part of nature have higher life satisfaction, meaningfulness, happiness, mindfulness and less stress.
The benefits of nature are not just for those who trail run, hike or backpack – they're for all walks of life and all ages, no matter your pace or ability. Here in the Evergreen State, we have thousands of miles of hiking trails, but few that are actually accessible to all. Finding a trail to explore when you have a stroller or use a wheelchair can be extremely frustrating.
We've compiled a list of our favorite local area hikes and trails that grant access to some of the best views in the Pacific Northwest. On these trails, everyone can explore the greatness of nature in the Pacific Northwest and bathe in the region's wilderness.
Lewis and Clark State Park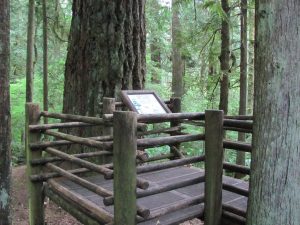 We start with Lewis and Clark State Park, as the location and landscape here makes for perfect "forest bathing" without much driving. Often overlooked, the park has miles of trails with many that can handle a stroller. While there are sadly no wheelchair accessible trails at this park, those with enough patience may be able to take the half-mile interpretive trail. If not, the park's campground makes for a good stroll through the tall trees and ferns.
Closer to I-5, both Fort Borst Park and Schaeffer County Park offer an accessible chance to enjoy the fresh air of Lewis County.
Mount Saint Helens
If you want to head south to Mount Saint Helens, you're in luck. There are a few wheelchair and stroller-accessible places to discover. First explore around the Johnston Ridge area and Coldwater Lake, which has a short, half-mile-long trail along its shores that was created during the 1980 eruption. Above the lake, the Johnston Ridge observatory offers plenty of accessible vantage points and trails that showcase the incredible volcanic landscape.
If you'd rather swing down and see Mount Saint Helens from White Pass, head toward Spirit Lake and explore the stunning and accessible Meta Lake trail. Paved and easy to follow, this trail is a great place to enjoy the healing power of the Cascade Mountains. After the trek, consider continuing down to the seasonally open Windy Ridge Interpretive site for another incredible view of this volcano.
Mount Rainier
For those hoping for something a bit wilder, Mount Rainier National Park has a handful of trails that are wheelchair and stroller accessible, displaying the iconic volcano for all who visit her glaciated slopes. In the Longmire region, the Trail of the Shadows is a great jaunt, coming in at just under a mile. Along this trail, you'll see wetlands, towering trees and get a look at early homesteading life.
Also along the stretch of road near Longmire, a short path leads to the Kautz Creek overlook, with a pretty view of Mount Rainier. While not far from the road, the sounds of running water will make you feel like you have complete solitude.
Higher up at Paradise, options are limited, but there's a gravel and paved trail from the upper parking area to the lower meadows. Your best bet for trails at Rainier will be at the Sunrise region of the park. Here, you can explore the mile-long Sourdough Ridge Trail, which includes stunning wildflowers and impressive mountain views. The best part? Wheelchairs are available at the visitor center for short term use.
So get out and explore! You'll be glad you did.