On a forested section of Centralia-Alpha Road near Onalaska a sign reads "Haven Homestead." Turn down the gravel drive that leads to a modest, two-story house and you will find a self-reliant haven. 
This is the home of Chris and Lindsay Hodge who have spent the past five years turning their four and a half acres into a self-sustaining home for their two young children, Emma (7) and Liam (5 ½).
"Sustainable living is trying to produce as much of your day-to-day needs as you can on your own property," Chris said. "So if you have energy needs for heat, you try to maintain a wood lot so you can heat your house. If you have food needs, you try to raise your garden and your animals so you can maintain your basic necessities."
"It's about creating as much as you consume so you can have a sustainable life," Lindsay added.
Chris grew up in an environment of self-sufficiency in southern Idaho. With a family of seven children, his mother did a lot of cooking from scratch and everyone learned to live cheap. "I've always been interested in homesteading," Chris said. "In my free time in college I learned all I could about homesteading because I thought it would be neat to go stake a claim and have an off-the-grid sort of thing. "
Lindsay grew up as a Navy brat, moving from place to place. "But I always wanted the simple life," she said.
Their goal was to homestead and have a bed and breakfast near the I-5 corridor, somewhere between Portland and Seattle. They found their property in 2012 for a reasonable price and moved a camper onto the property the next year. Emma was two years old and Liam was 10 months old. There was no power, just a generator and batteries; no running water and weekly pumping of the holding tank in the camper.
"There were times when we were living in the brush in the country in a trailer with no space when I was kind of freaked out," Lindsay said. "I felt a little trapped because I didn't have a safe place for my kids to play." Liam has a "dimple" on one cheek from falling in the stubble after brush hogging the land while he was learning to walk.
Things got better as the kids got older and they made progress on taming the land. There was even a point when Lindsay thought she could live in the camper a "few more years." By that point, they were well on their way to building their house.
A local contractor helped build the house and the Hodges finished it themselves – all the trimming, all the molding, all the doors. "We did it all as cheap and nice as we could," Lindsay said.
"Chris is highly skilled with tools," Lindsay added. He built shelves, beds and other things for the house and dreams of having a furniture business some day. Currently, he works out of a 20-foot container box and plans on building a workshop soon.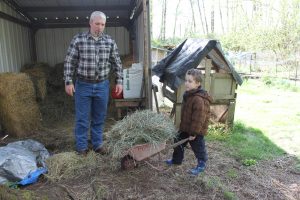 Everything on the farm is designed to pull its own weight. Rabbits are raised as a protein source and side products are sold. Fur can be made into cat toys and rabbit manure makes a great fertilizer.
"We also have the chickens," Lindsay says. "They process our kitchen waste and we get way more eggs than we need."
Even the children are expected to work. "Both kids are learning how to care for the animals and garden as part of their homeschooling," Lindsay said.
Once the chickens got out of their pen and Lindsay tried to catch them. "I felt like such a goofball, running around trying to catch chickens with my hands," she said.
Chris came home and made a simple tool out of a wire hanger.  "You just put a hook on the end and snag their foot," he said. Now they use a large fishing net to catch wayward chickens.
The spare bedroom also earns its keep as a guest room for Airbnb renters. "Last year we made enough money to pay our property taxes," Lindsay said.
The Hodges participate in World Wide Opportunities on Organic Farms (WWOOF) where people come to work the land and learn about sustainable living. Their first WWOOF-er was Mika, a girl from Japan. She stayed for three weeks and practically became a member of the family. "It was fun to exchange cultural experiences, cook together and share knowledge," Lindsay said.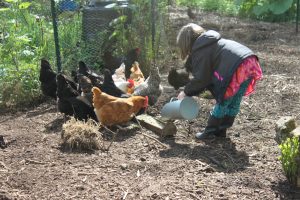 The Hodges teach classes on sustainable living for Centralia College's Continuing Education program. According to Chris, "If you were just doing it all yourself and not helping others learn about it, you are wasting an opportunity."
Their podcast, blog and project information can be found at www.havenhomestead.com.