Classic Cars have a certain allure. They evoke memories of an era when form took precedence over function. They transcend time. Their nostalgia is both an art and a way to gather in appreciation of these American icons.
Don Lorette has been a real estate broker with Windermere Centralia since 2013. He loves helping people find their perfect home, specifically in the Mossyrock and Lake Mayfield areas. He and his wife Victoria live in Mossyrock, themselves, and are major car and motorcycle enthusiasts.
The couple loves participating in car shows, locally and around the state. "It makes you think of good times in the past," says Victoria. "Old cars bring smiles in a world that is discombobulated."
There are increasing numbers of women joining the sport, as Victoria likes to call it. "There are an awful lot of women who own classic cars and go to car shows," she says. "They're a hoot. We like to support our partners."
According to Don, car culture in Washington has exploded. "It's an investment that holds value," he says. But unlike some investments, this one is fun.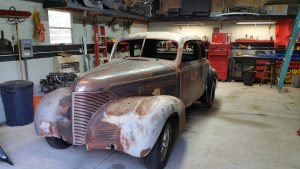 Don and Victoria own two classic cars. The couple adopted their 1939 Chevrolet Truck "Baby Boy All Steel" in 2017. Originally rebuilt in New York in 2004, the truck sits on a 1989 S10 frame with a Camaro 305 SB, 200R4 trans with TBI. The frame and suspension were completely restored – just like new.
Don and Victoria also own another 1939 Chevy. The Coupe – named "Baby Girl All Steel" – has been an ongoing project for the last two years. She's a full-frame-off Resto-Mod. The Coupe has a freshly rebuilt 5.3 LS with a 4l60E and a few extra goodies. When complete, her body will include 1946 Chevy truck headlights and a few other body modifications.
Cars have been part of Don and Victoria's relationship from the beginning. "Don was a gearhead when I met him and he still is," says Victoria. "We're just a couple of old coots having fun together."
Cars aren't the only vehicles they enjoy. They love anything with speed including motorcycles, boats and sand rails.
Local car culture is clearly popular, with many car clubs and shows. And there are plenty of opportunities to enjoy both in Lewis County.
The Centralia Chehalis Vintage Auto Club started in 1962. Their mission: to share the love and preserve antique automobiles.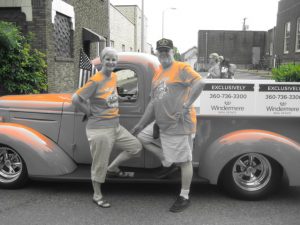 There's something about classic cars that makes it easy to imagine the open road – that feeling of freedom. Everything about them is cool; the sight of glossy bright paint and shining chrome, the rumble of a beefed-up engine and the feel of the wheel vibrating with power in your hands. Classic car culture is all about hard work and nostalgia. Experience all this and more with Lewis County's classic car clubs and shows.
Don Lorette
411 W. Main St.
Centralia
360-736-3300
mossyrockhomes.com
Sponsored