When I see the little old-fashioned looking gas station off to my right, I know I'm in the right place. I turn cautiously through the narrow opening in the fence and park my car. As I get out, I'm greeted by proprietor Roy Richards. An older gentleman with a kind smile, he's eager to show me his Renegade Rooster Winlock History Collection.
As we walk by the old gas pumps and the 1927 Model T, I ask how many items he has in his collection. He looks down at the graveled driveway, smiles and says, "How many rocks are here?" I soon learned what he meant.
Roy and his wife, Linda, began their collection in 1994. He had been involved with the local museum, then decided to start his own. Linda was a teacher in Winlock for over 24 years and wanted her students to see and touch history.
We walk into the little grocery store behind the gas station and I immediately feel like I've stepped into history; the setting reminding me of many old stores I went to as a child. The room is filled with old tin cans and bottles of all kinds: tinctures, ointments, medicines. Old dispensers of gum, candy and pop. Plastic fruit and eggs with accompanying signs listing period prices. Richards talks about looking forward to an upcoming visit from Winlock Elementary second graders, who will get to learn about these items and compare them to today's prices.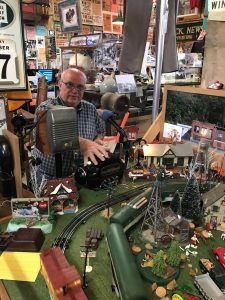 Some of the items are examples of period life, others are tributes to Vader where Richards' mother was born. He points to cans of lard, castor oil, cod liver oil, sweet oil – all memories of his childhood. Holding up a bottle of turpentine, he marvels at what it was used for. "When I had a cold, my mom would mix sugar with the turpentine and give me a teaspoon of it," he chuckles. "Sounds scary now, but I guess we all lived through it."
I play a quick game on a working pinball machine, which had me laughing with delight. Then we head on over to the building that holds even more memorabilia – too many things to count. No wonder he asked how many rocks were in the driveway.
Richards is excited to show off his favorite display: a train he had as a child. "I had it upstairs in the family barn, running around the tracks on the hay. I remember sparks would shoot off of the tracks. It's a wonder I didn't start a fire," he says with a laugh. He starts the train and it clickity-clacks quickly around a little town setting. The background is pictures of downtown Winlock. "All aboard!" Richards announces over a microphone as he smiles broadly. It's easy to see this is his favorite display as his face lights up like a child at Christmas.
Other items in the collection include his wife's beautiful egg cups, local school displays, many Winlock Egg Days memorabilia, a loggers display and much more.
Then Richards shows me the "candlestick" phone. "Go ahead and make a call," he urges. Not sure if he's teasing, I pick up the ear piece and hear a dial tone. I look at him again and he says, "Go ahead." I dial my husband's cell phone. When I hear his "Hello?" I almost squeal like a child. "I'm calling you from a candle stick phone!" I exclaim. That simple phone was my favorite artifact.
Items from a Winlock time capsule found several years ago are on display, as well as the old printing press and equipment from the "Winlock News." He even has the last newspaper printed. I see pictures of Winlock as it's changed. "We just wanted to re-create life in Winlock over the years," explains Richards.
Richards has a guest book for visitors to sign. It's a lot of fun to flip through and see where they come from. You'll see several from Seattle, Bremerton, Bellingham – but the most surprising one is from North Pole, Alaska. "A lot of people don't call ahead, they just show up. People will drive 200 miles to get a pop and a piece of pepperoni," he says with a huge smile, talking about the treats he hands out to visitors.
Richards has no plans to stop contributing to his collection nor showing it off to kids and other visitors. There is no charge to visit and no charge for the treats. "It's here to enjoy," he says. "It's not about the money. It's what's in your heart; your memories as a child. This is just my way of giving back."
So what did that last Winlock newspaper say? And what was in the time capsule? Head on out to the Renegade Rooster and find out!
The Renegade Rooster Winlock History Collection can be found at 558 Rhoades Road in Winlock. For more information call 360-785-4433.