Derrick McKinney grew up in West Philadelphia, in a neighborhood known as "The Bottom." He used to wonder if he was going to make it to 21. He was part of a gang. He saw people shot and stabbed. "One day I weighed it out. I was either going to end up dead or in jail," says McKinney, now a Community Educator.
With a start like that, McKinney knows exactly what he's talking about when he engages with troubled teens over their problems. He's been there. He's been them. But you would never guess his past just by talking to this quiet, calm, friendly gentleman.
"You just have to make up your mind that one day you're going to get out," he says matter-of-factly. McKinney got out by joining the Air Force. He was only 17 at the time, and already a father. "I knew I needed to do something. Obviously what I was doing wasn't working and I needed some kind of way to support a family." It was the best thing he ever did. "I give all credit to the military," he smiles. "They taught me about me and what I was capable of. I just had to put my mind to it."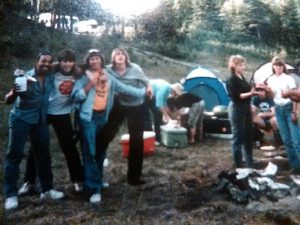 McKinney's first assignment was Las Vegas, then Alaska, a place he liked so well that he stayed after he was discharged. "I love the outdoors, the mountains. Coming from the inner city and going into that kind of environment opened my eyes to what else was out there."
McKinney went on to college to study sociology. He started working with Alaska Children's Services while going to school, learning to understand how life was for Alaska native youth. It was a great cultural experience for McKinney as well. He tried seal oil and whale blubber. "It's a far cry from Philly Cheese Steak," he laughs heartily.
McKinney learned de-escalation skills that help him when talking with troubled youth. He learned how to recognize a situation that's about to become explosive, how to stop it and make it safe. He explains that when someone is upset, it's about their issues and has nothing to do with him. He tries to help them put things in perspective and not be judgmental.
McKinney moved to Washington where he worked at Echo Glen Children's Center, United Indians and with Teen Hope in Seattle, where he helped hand out donated food, clothes, soups and sandwiches to homeless kids.
One job he particularly liked was called Project Challenge. As a case manager he worked with young people who could perform community service projects to pay restitution for their crimes. "I liked the opportunity to show young people a different way and that there are other things out there," he says. "I liked showing them how their behavior affected their community. I tried to get them out and interacting with their community to show them that it was their neighbor's house they were breaking into so that they would really think about that."
McKinney loves hearing stories of how he has touched lives. He tells of a woman named April who wrote on her Facebook page, "I'll never forget the day that Derrick walked in and took me by the hand and said, 'Let's get you a GED.'" April now has a Bachelor degree and is a nurse.
"I got a lot of good stories," smiles McKinney.
McKinney and his wife, Carolyn, moved to Morton in 2006. He is now a community educator and presents the National Runaway Safeline curriculum, Runaway Prevention Curriculum: Let's Talk, a 14-part program that teaches teens alternatives to running away.
He's also working on a book about what it really means to be a youth worker and the responsibility that entails. "It's not summer camp, not a camp counselor kind of thing," he says. "You're doing things that can really have an impact on someone." He's always searching for ways to provide more education for people working with youth.
"My journey has been one of great reward which is why I keep doing it," McKinney says. "You don't get tired of it. I love it. There's never a dull moment and working up close with young people is awesome."
McKinney and his wife have also found home and community in Morton. "People in Morton are very kind and respectful. When I go into supermarket everyone knows me, and says, 'Hey, how are you doing?' It's just nice," he smiles.
"Whenever I meet people and tell them what I do, they often ask if I can help talk to a kid they know that is struggling, and I tell them I'm happy to do that," says McKinney, who lives by his personal mantra, "We should seek first to understand before being understood.
If you are interested in McKinney presenting his curriculum to your group, you can give him a call at 360-304-3494 or email derrick_mckinney@msn.com.