I slipped into the Oakview Little Opry mid-set as the band Klassics was playing. I had to look around for a seat at the back, amid toe tapping patrons of classic country music. The atmosphere during the Little Opry could best be described as friendly, warm and relaxed, which is what mastermind Robie Carter was striving for when she conceived of the monthly event.
Robie Carter is Klassics' feature singer and lead guitar, Cheryl Terry plays bass and Rodie Sunga covers percussion and vocals. They closed out their set with "Bad Bad Leroy Brown."
To fully understand Robie's vision for the Oakview Little Opry, it helps to look at the journey that formed her into the musician she is today. It began in Kansas, when she was just a child.
"I started playing guitar when I was eight and then I went on to play bass guitar, drums and banjo," Robie recalls. "When I was 14, I won a talent contest and a guy who had one of the well-known bands around town picked me up. He played the rodeo circuit and he played Kansas, Oklahoma, Missouri and Nebraska every summer. So, I went out in the summers and toured with him on the rodeo circuit, which was a blast."
They played post-rodeo gigs in venues called "saddle clubs" where all the rodeo people gathered together. Robie compares these clubs to a grange because they didn't have drinking. It was a place to perform while everyone would dance and eat. "Kind of like we do at the Grange," Robie explains. "I played with him for a couple years, but then he got sick and couldn't play anymore."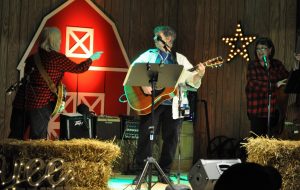 When Robie was 15-years-old she fell into ideal work for a school-aged musician. There was a shopping center with a guitar store on one end and a music store on the other. The music store was used by the school kids and Robie gave guitar, bass and drum lessons there. After lessons she went down to the guitar store where all the musicians hung out. "I watched his store while the owner gave classes," she says. "All the musicians would come there and they would just sit and jam. So I learned how to play lead from all these guys."
This would have been in 1968 when Robie was one of few local female musicians, because many women simply didn't play. They might sing a little bit, but they didn't play.
"I got to know a lot of those guys and they became big brothers to me," Robie says. "Of course they were all older than me. And they started taking me to the jam sessions around. Sunday, we went to this one jam and the lady who owned the club made this big fried chicken meal. She lined [the pool table] with fried chicken and all the fixings and there would be maybe 25 to 30 musicians there jamming. Of course, I'm the only girl. The guys who had taken me on as their little sister watched after me to make sure I was safe. Because it was a club, there was drinking, you know. And they really took good care of me. And then after that we went to another club that went from 5:00 to 9:00 p.m. and that lady made dinner for all of us so we could go on. So, every Sunday was just – jam."
This kind of musical community is something that Robie still yearns for.
"And that's something that I just haven't found up here," she says. "I don't know if it's the times that have changed or if there used to be anything like that here, or not. It could just be that era. But that's what is really sad. The classic country music has gone away and that's what I would like to keep alive."
In addition to Klassics, Robie also plays in a band called Prairie Fire – an all-female bluegrass band featuring Robie on guitar and lead vocals, Cheryl Terry on upright bass and vocals, and Cindy Compton on banjo. During their set at the Little Opry they played a range of favorites like Dollie Parton's "My Tennessee Mountain Home," the rousing "White Lightning" and "Rocky Top," and the spiritual sing-a-long "I'll Fly Away."
"There are a lot of people out there my age or older that still love that music," Robie says, "but you can't hear it anywhere. A lot of clubs have gone by the wayside. I miss the music like that, the jam sessions and all that fun. And that's what I'm trying to recreate here. A place that the elderly can go – anybody – but especially the elderly. A safe place with no alcohol that's not a club. If they want to sit there, or eat or dance, they can do whatever they want to do."
The members of Prairie Fire strive to have fun during their set and keep the audience engaged by telling jokes and stories along the way. "It's so nice to not have to be that professional," Robie explains. "On tour you have to be professional and it's so serious. I just want to have fun. I want to make light of things if something goes wrong. Let's make a joke out of it and make everybody laugh. I want the audience to have fun."
The Oakview Little Opry takes place at the Oakview Grange in Centralia on the third Saturday of each month. Dinner hosted by the Grange is $8.00 and starts at 5:00 p.m., with a baked potato and all the fixings, coleslaw, chili and ice cream for dessert. Music starts at 6:00 p.m. Guest musicians come in each month to round out the show. In April, musician and singer Dennis Harris will be making an appearance. Tickets are $5.00 or get two for $8.00.