Attention ladies – want to have fun with friends, support a great local organization and enjoy ground-breaking films? The Lewis County Branch of the American Association of University Women (AAUW) hosts the second annual Lunafest on April 27, 2019 at Centralia College's Corbet Theatre. Social hour begins at 1:00 p.m. with complimentary appetizers and wine. Purchase tickets for the fun raffle drawing for awesome local items. The screening of nine short films by, for and about women begins at 2:00 p.m.

AAUW has empowered women as individuals and as a community since the 1800s. The Lewis County AAUW is ninety-five years old. The organization has evolved over time, yet consistently looks for women who want to get things done in the community. With a mission statement of extending education, equity, diversity and philanthropy for women and girls, AAUW lobbies and uses grassroots efforts to promote policies that break down barriers for women.
Lunafest is benefiting Human Response Network, whose mission is to end the cycle of violence with ongoing support to those who have experienced domestic violence or sexual assault. Through advocacy, education and providing legal help, the organization empowers the vulnerable to become self-sufficient. This is especially powerful because domestic violence is the leading cause of homelessness for women and children nationwide.
Jena Sorenson, Board Chair of the Human Response Network, says there has been an increase in demand for services since last year.
The Human Response Network also helps build employment skills and secure housing. "We are really successful at what we do," Sorenson says. "Our advocates work really hard and we are fortunate they are so good at what they do. It's a really difficult job to work with people who are in a crisis."
Sorenson encourages the community to donate money, time or resources to the Human Response Network. "Volunteer or join a committee," she says. "There are a lot of different ways to be involved."
The idea to host Lunafest came after longtime AAUW members Jan Leth and Sharon Lyons attended a showing in Arizona. The films were remarkably thought-provoking. "We looked at each other and said, 'Lewis County needs something like this,'" Leth recalls. "There is a need in this area for women to see these kinds of films, gather and have a chance to talk about them."
Lunafest films are both entertaining and intellectually stimulating. Some are humorous, others are serious and some are even cartoons. "The LUNA bar folks review about 1,000 films each year from all over the world to find the 90 minutes of programming," says Lyons. "All the films are for, by and about women – and nine were chosen for this year."
"How relevant is this to the national dialogue of how little women are represented in filmmaking – particularly as directors," says Sorenson. "This is important because it drives your culture – what people are seeing on the screen. It's important to get women in those roles so their voices and stories are heard."
Men are welcome at Lunafest too. "I think it's really good education for both sexes," says Leth. "It's really an international film festival here in Lewis County."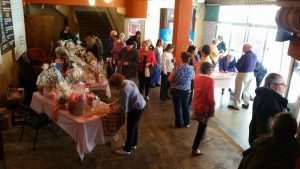 With submissions from all around the globe, these brand-new films are often ones you wouldn't normally see. "It's a fun thing for BFFs or moms and daughters," says Leth, who recommends attendees be at least sixteen or over due to some mature content.
"This is a very, very fun and unique event," says Lyons. "The films are short, poignant, humorous and thought-provoking."
"It's an opportunity for people to come and see fascinating films and do something for an organization that does good work that is very needed," says Leth. "A lot of people don't know how much work Human Response Network does and they would be shocked."
In 2018, Human Response Network assisted 787 clients in a domestic violence or sexual assault situation for a total of 6,750 hours.
Both Leth and Sorenson want to raise awareness about Human Response Network's services in order to enlighten and assist those in need. "It's just a neat partnership and makes so much sense for both parties," Sorenson says. "Needing to tell our story, of something that is taboo, and to share other women's stories that don't get told often."
"We are a microcosm of the universe," says Leth. "We consider it a privilege to support Human Response Network. AAUW has long pushed for women's issues and rights such as equal pay and rights to education, so this is a perfect mesh."
Tickets for Lunafest are $20 and are available now at local businesses Book N Brush, The Station Coffee Bar, Shakespeare and Company,  Boccata and Santa Lucia Coffee.
Tickets are also available online or at the door.
If you or someone you know needs help, contact Human Response Network 24 hours a day at 360-748-6601, toll-free at 800-244-7414 or in Español at 360-880-0515.