Do you enjoy cooking at home with fresh ingredients? Do you want to find a way to make it easier? A CSA could be perfect for you. Community-supported agriculture (CSA) is a food system that directly links farmers and consumers. There are many Lewis County farms who offer a CSA program for locals to have direct access to fresh, quality produce.

Best Family Farms
Best Family Farms offers a CSA with various vegetables, fruits, eggs and culinary herbs, for pick-up at the farm. Their food is grown without pesticides or herbicides. Best Family Farm also offers home delivery service for a small fee. The CSA begins on June 18 and continues every Monday.
This veteran-owned family farm is operated by two generations with the help of the owners' young sons. Brandon Best, who was a cook in the Army, shares, "I have always been around food my whole life. It's rewarding – farming. My inspiration is found in the process of planting a seed and the chance of it maturing to harvest – through day-to-day tasks of watering, fertilizing, weeding and harvesting. Also educating the consumer on how to best prepare the produce."
Best Family Farms has been in operation for seven years and has three and a half acres. Watch their Facebook page for an upcoming plant sale on May 19 and other activities at the farm throughout the year.
Best Family Farms
Brandon Best and family
139 Highway 603
Chehalis, WA
360-350-2324
bestfamilyfarms@gmail.com
Coffee Creek Community & Gardens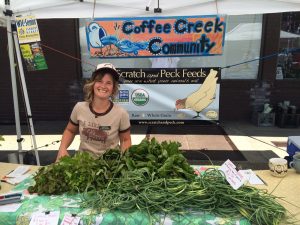 Coffee Creek Community & Gardens is a woman-owned, education-based farm where wwoofers, farmers, families and intentional community come together to put inspiration into action. They have successfully operated for the last nine years with two acres of food grown with organic practices. Veggies, herbs, fruit, eggs and turkeys are available in a June to October CSA program with varied locations for pick up. Turkeys are available in November as well.
When asked what inspired her to be a farmer, owner Mokey Skinner replies, "Life! I have always had a deep seeded desire to live close to my land base, so farming and homesteading was a natural choice for me."
Coffee Creek received a sustainable agriculture grant this season and will be hosting education and sustainability-themed work parties and potlucks through November. Mokey enjoys teaching real skills and giving experience, particularly to women and people of color who are interested in farming, yet may find additional challenges integrating into rural farm life. The best way to find more information is to follow Coffee Creek Community & Gardens or send an email inquiry to Mokey.
Coffee Creek Community & Gardens
Mokey Skinner
Centralia, WA
360-241-4855
coffeecreekcommunity@gmail.com
Newaukum Valley Farm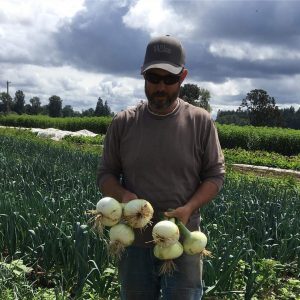 Newaukum Valley Farm does not have a traditional CSA program – but you can still enjoy their delicious produce. Essentially, they offer a flexible pop-up CSA box option via their website and online store. Availability is generally announced through social media and email. There is no commitment and pick-ups are at the farm stand or a local business. The CSA runs from June to October and features organic vegetables with extras of canning tomatoes and fruit.
Newaukum Valley Farm also hosts farm dinners for those who would like to see where their food is grown and meet farmers Josh Hyatt and Melissa Henderson.
Newaukum Valley Farm began in 2003. Now on twenty acres, the farm employs eight people, as well as several young adults and students from around the country who come to gain experience. "Our favorite part of farming is being able to work from home on a beautiful piece of land," Melissa says. "Developing long-lasting friendships with our customers has been an added bonus. We also enjoy gathering together with fellow farmers to talk farming."
Newaukum Valley Farm
Josh Hyatt and Melissa Henderson
482 Spooner Rd.
Chehalis, WA
370-269-6102
newaukumvalleyfarm.com
Please use the "contact us" link on the website for email
Terralumina Gardens
Terralumina Gardens offers a CSA year-round, with main season shares available June through October. Some winter shares will be available this November through March with pick-up locations in Chehalis, Longview, Olympia and Toledo. The farm grows only open-pollinated and heirloom varieties of vegetables and herbs using conforming practices.
Featuring a broad range of vegetables, herbs, fruits, berries and salad mixes, Terralumina Gardens offers twenty-five percent off if paid before May 1 for a full share. For EBT customers, they offer weekly payments at the Chehalis Farmers Market. Extras include goat's milk soap and, occasionally, products such as dried chamomile for tea or dried herbs. Farmers Renee Terralumina and Fiona Lewis are hosting a "Know Your Farm" CSA and customer gratitude feast and farm tour on June 24 from 3:00 to 7:00 p.m.
Terralumina Gardens focuses on sustainable production and the biodynamic relationships between plants and animals by raising angora rabbits and dairy goats for fiber and to improve the soil. "When I was young my grandmother read The Secret Garden to me and from that point on I just wanted a bit of earth to create my garden," Renee shares. "My garden is my life."
They will soon be adding bees with the goal to create a complete sustainable ecosystem on their lovely five acres.
Terralumina Gardens
Renee Terralumina and Fiona Lewis
218 A Stub Rd.
Onalaska, WA
360-623-0433
rterralumina@gmail.com
Visit a farm, meet your local farmers and find out why a CSA is more than just a box of produce. By supporting a local farm with a CSA purchase, you help independent farms succeed. In addition, CSA's help local families eat fresh, local foods and encourages stronger community-based food systems. For a comprehensive resource of all kinds of locally-grown food, visit Lewis County Table.