The white, two-story house across the street from the Lewis County Courthouse has a warm, welcoming aura that draws people in. Perhaps this is due in part to its early years when it was owned and operated as a bordello by Ella Simmons – an especially colorful part of Chehalis' history.
More likely the feeling comes from partners Karen McSwain and Maureen (Mo) Anderson who have turned the house into a unique bookshop: Shakespeare & Company. Here you'll find good coffee, a delicious snack and a delightful book to settle down with in one of the shop's comfortable chairs.
"People say we have a ghost, but any ghost-like tendencies we have here feel friendly to me," said McSwain. "I think Ella Simmons' ghost is happy with us being here. I've heard stories about her, but they are pretty benign. She was eccentric. She wore red lipstick. That's why we have red lips on our logo."
The lipstick also sets them apart from the Shakespeare and Company bookstore on the Left Bank of Paris, France, where aspiring writers such as Ernest Hemingway and James Joyce met to discuss their art in the 1920s. "I wanted to create a space like that where people can go to study, have meetings and do creative things," McSwain said. "It combines all the things that I like: books, coffee, food."
Both women love to read. They visit garage and thrift sales to find good used books. Their selection is heavy on memoirs, world religions, philosophy, travel, cooking and classics. "If it jumps out at me, I get it," McSwain said. They sell over 200 books a month and put out new books every night.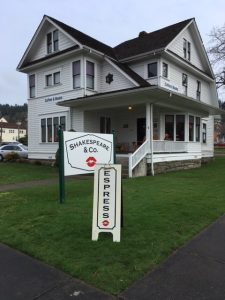 "Food is also important to us," said Anderson. "We want people leaving here feeling good even if it's grab and go." And what's not to like about McSwain's homemade muffins, cookies, doughnuts, brownies, sandwiches and everything else? For $8.95 you can get a veggie chef salad with organic chicken, homemade dressing  and organic vegetables from Newaukum Valley Farm. "It's beautiful food," McSwain said.
Anderson is the barista and uses coffee beans from Olympia Coffee Roasting Co. They have used the product since 2007 for its quality and the company's ethics. They believe in fair and direct trade and ensure that farmers are paid a living wage.
McSwain comes from Buffalo, New York where she attended culinary school. She went on to study at Evergreen College at the encouragement of a friend. Here she earned two degrees in fine arts, counseling and philosophy. She then earned a master's degree in counseling and taught at St. Martin's University.
McSwain paid her way through school working as a waitress at Bud Bay Café and other restaurants in Olympia. She wanted to go back to school and earn her PhD, but couldn't stop thinking about her dream. "I bought a restaurant instead of going for my PhD," McSwain said with a smile. She opened the Blue Lotus Café in downtown Olympia.
That's where McSwain met Anderson, a southern California native.  When the Blue Lotus sold, the two women became business partners in The Pearl Café in Chehalis. Seating was limited, but people came for the made-from-scratch, farm-direct food.
The café was successful, but required too much time on their feet.  "Restaurants are for younger people willing to put 12-15 hours a day into their work," McSwain said. As it is, they are up at 5:00 a.m. daily to bake and make salads using the commercial kitchen in The Pearl.
People were upset when The Pearl closed, but once a month they can attend a "pop-up" brunch where former employees do a guest appearance. It's first come, first serve from 8:30 a.m. to 3:00 p.m., or whenever the food runs out.
Opened in June of 2017, Shakespeare & Company is much different than operating a restaurant. "This is slower," McSwain said. "We want it to be a place where people can come and relax and be creative – read, do poetry, have meetings, unplug from texting and computers and see each other eye to eye for conversations and community."
Ella would be proud.
Shakespeare & Company is located at 120 NW Pacific Avenue in Chehalis. It's open seven days a week: Monday through Friday from 7:00 a.m. to 6:00 p.m. and Saturday through Sunday from 8:00 a.m. to 4:00 p.m. To reserve a room for your group, call 360-748-4652.