Lance Fletcher of Centralia General Agencies is phasing out of the insurance business. He began his insurance career in 1977 and joined Centralia General Agencies in 1989 selling medical, life and disability insurance. Now the time has come to enjoy other pursuits. But you won't find him watching television from his easy chair. His plans of "new and exciting adventures" include a lot of travel with his wife, Linda.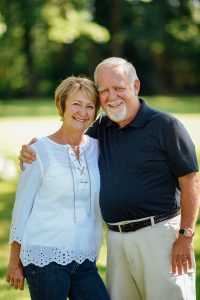 Fletcher grew up in Galvin where his parents, Norma and Harry, owned the Galvin Grocery Store. Growing up above the store with his two brothers was a great experience for Fletcher. His mother's perspective, however, was different. "Bless her heart, she was embarrassed," says Fletcher, who found out in her later years.
"She was concerned what our friends who came over thought, but our friends were envious. If we wanted ice cream in the middle of the night, we had it. My brother would get a bowl big enough to serve beans in for ice cream," Fletcher recalls fondly. The family not only had an ice cream fountain, but also sold fireworks and comics. What a fantastic home for a young boy.
Fletcher remembers his father putting him on the counter to cut his hair while working the store. "It took an hour and a half, with all the interruptions," Fletcher says.
In junior high, Fletcher got his first job as a newspaper delivery boy with fifty-one customers up Lincoln Creek Road. "With my first paycheck, I couldn't wait until I got my first barber's haircut," he says.
Lance met his wife Linda in junior high. The couple, now married for forty-eight years, attributes their longevity to their faith. "We agreed to agree," Fletcher says. "We have had tough times – raising a family and dealing with aging parents – but it made us closer, doing what needed to be done … The next few months will be the real test," he jokes of his retirement.
The couple will return to Papua New Guinea with the Twin Cities Rotary Club to work on an ongoing water and sanitation project there, assisting a coffee and tea plantation that employs tribal members. "Education is part of it and getting a committee there to take responsibility for these systems has been a big deal," Fletcher says. "It isn't a sprint but a marathon. It's very raw there but with very neat people and it's been rewarding."
The couple has also done work in El Salvador for Centralia Church of the Nazarene's sister church.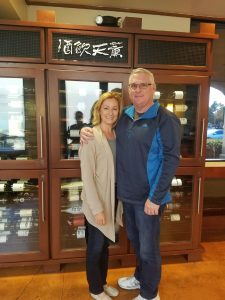 The Fletcher family has always had global interests. They hosted exchange students and enjoy visiting them in other parts of the world. Fletcher recalls one young man from Germany who came to Centralia to play basketball and then attend a year of college. They later visited him in Cape Town, South Africa, where he's now an orthopedic surgeon. They also met his wife, a former Miss South Africa. "The exchange students were a highlight in our lives and it's a super great experience to go and visit them," Fletcher says.
The pair are thankful for the local community. They look back knowing they made the right decision to raise their family here. "We were really fortunate and blessed," Fletcher says. "It has been really fulfilling to live in this area."
Centralia General Agencies will continue to thrive with the addition of Tim Altman, while Fletcher still assists with accounting. Bob Holland and his son Josh will continue to work in association with the agency. "Bob is involved in everything," Fletcher says. "I don't know how he does it all. He's low-key and connects with so many people."
Fletcher's main concern, as always, is the customers. "This group is compatible and it was a good situation for all of us over time," he says. "We always want to make sure the customers are taken care of. Tim is very trustworthy. I'm very happy with the arrangement."
Altman has known Fletcher and Holland for many years. "We all have the same values and integrity," he says. "That's why this all made sense."
Holland says he looks forward to Altman's high energy and the technology he will bring to the firm.
Altman is an unbiased representation of all the Medicare insurers. He appreciates the community here and the homey, small-town feel. He believes the population will continue to grow. "Retirees find the area comfortable from the bustle of large cities," he explains.
Altman sees his partnership with Centralia General Agencies as an opportunity to serve and educate people. "I look forward to building relationships here and being part of the community and causes," he says.
For individual health insurance, senior medical plans, group medical plans and life insurance, count on the professionals at Centralia General Agencies to offer competitive rates and a variety of insurance options. "Insurance is my passion," Altman says. "I work for you and the most important thing is you. I take it very seriously."
Centralia General Agencies
209 ½ W. Main Street in Centralia
360-736-8283
Sponsored