Jefferson Lincoln Elementary School in Centralia kicked off Read Across America Week with an assembly featuring the staff of TwinStar Credit Union and their mascot, Dollar Dog. TwinStar Credit Union has an important relationship with the school, supporting their new Positive Behavior Interventions.
Principal Kelli DeMonte had a positive relationship with TwinStar in Thurston County and wanted to build a connection with them locally. She got in touch with Shane Wood, Business Development Officer for TwinStar, and the two met for coffee. Together they came up with a plan to help students and teachers. TwinStar chose to donate cash for Positive Behavior Intervention Supports along with TwinStar swag such as stuffed Dollar Dogs. This partnership helps teachers who would otherwise have purchased prizes for their classrooms out of their own pockets.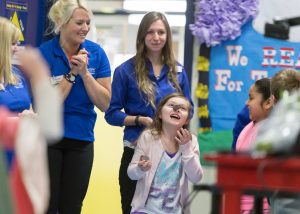 "Relationships are the foundation of all students' success," says DeMonte of the valuable TwinStar partnership. "By bringing everyone on board, as a community and a school, we are able to wrap our arms around students."
Positive Behavior Supports are essential to learning. "We all work harder when our positives are focused on rather than our negatives," DeMonte says.
When a student at Jefferson Lincoln Elementary School is noticed doing well and meeting expectations, they are given praise along with a blue "Proud Patriot Ticket." Students write their name on the ticket and enter it into a drawing. Drawings are done on a tiered level and are held weekly in the classroom and monthly school wide. Classroom winners receive a prize from the treasure box. Monthly winners receive a very special treat such as ice cream with Principal DeMonte.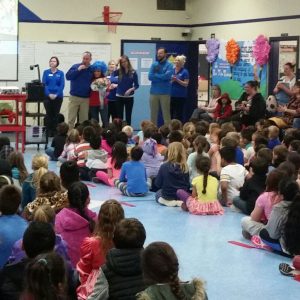 "Our partnership with TwinStar Credit Union is one that will benefit all staff and students," DeMonte says. "At Jefferson Lincoln, all adults are committed to the success of every single student. When it comes to meeting the individual academic and social/emotional needs of every student, it takes resources beyond our school building, which includes partnering with our community members. We utilize Positive Behavior Intervention Supports throughout our school day and TwinStar's donation will help us to purchase needed materials and prizes to successfully implement our tiered levels of intervention support."
TwinStar Credit Union has always had a special relationship with teachers, ever since they began eighty years ago as the Thurston County Teachers Credit Union. TwinStar knows the value of teachers. "The big focus of TwinStar is community and partnerships," says Wood. "This goes right along with that focus."
Third-grade teacher and Instructional Coach Michelle Riffe says, "Ultimately, the partnership offers more resources for kids by helping the teachers. We pay for a lot of classroom resources with our own money. It also brings in encouraging community members to be around the kids. Now when they see one of the TwinStar staff in the community, they will know and recognize them."
This is just a portion of what TwinStar does to support teachers and students. The TwinStar Community Foundation works to extend community commitment initiatives to larger projects. TwinStar also has scholarship programs that benefit high schoolers who are members. In 2016 alone, they gave $113,000 in scholarships for higher education.
Teachers who are members of TwinStar Credit Union can apply for Classroom Cash. These grants are designed to help teachers pay for classroom supplies that otherwise would have come out of their own pockets.
TwinStar's Community Development Manager, Amanda Stevens, is the credit union's resource for financial education to the community and local schools. She has taught over six thousand students, from kindergarten through college, about Financial Fitness this year. She uses age-appropriate lessons to instruct students on budgeting, checking and savings accounts, credit and donating money.
Youth who want to manage their money with TwinStar can open a Dollar Dog Savings Account. For every $5 deposit, they earn a dog dollar. When they have a total of fifteen dog dollars, they get to pick a prize at the TwinStar branch.
From the beginning, TwinStar Credit Union has been there to help teachers and students. They have deep community roots and truly enjoy giving back. In 2016 the TwinStar Foundation donated $250,000 toward community events, sponsorships and company labor, as well as $143,000 to social responsibility initiatives. This is on top of the five thousand volunteer hours employees have contributed to the community.
Since 1937 TwinStar Credit Union has believed that healthier and happier people make great communities. TwinStar does their part to support this belief and it shows. Through their efforts to support teachers and students, they are building a stronger community with an even brighter future.