We sat down with new Centralia Police Department recruit, Pax, to see what life is like as a K-9 officer of the law. We discovered that Pax is down to earth, kind and intelligent. Along with his handler, Officer Ruben Ramirez, he is a real asset to the local law enforcement team, with a particularly exceptional perspective.

So, Pax, when did you start as a Centralia K-9?
I started training on November 13. I had never met my handler, Officer Ramirez, before that. I didn't know what to expect.
How old were you at the time?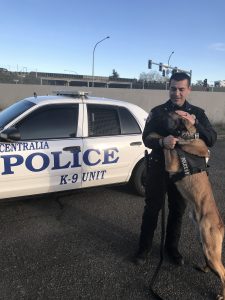 I was about one year old.
Is that rather young?
It all depends on the maturity level and the qualities someone is looking for. If a dog has the qualities, the age isn't as important.
What kind of qualities was the Centralia Police Department looking for in you?
I am a general purpose K-9 so I needed to be social since I interact with the community a lot. I needed to not bark or growl or nip at people. I needed to be able to hunt, to walk in parades and also be brave if my handler or other officers need help. I'm very mellow and gentle, but I will protect my handler's life if he is threatened.
Did you always want to be a K-9?
Yes, absolutely. I was raised in Europe where dogs are specifically raised for military and law enforcement. This is exactly what I was born to do.
How long did you have to train for the job?
I trained for six weeks. Our Chief of Police, Carl Nielsen, and his wife Jan, have a dog training business. They donated all their time to train me and get me certified. I was very fortunate, they have a lot of experience with K-9's.
What kinds of things did you train to do?
I learned how to track people, how to search certain areas, how to search buildings and how to protect my handler.
What kind of reward do you like to receive for your work?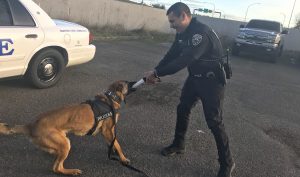 I'm pretty low maintenance. I'm happy if my handler just says, "Good boy!" and gives me my chew toy.
Where did your name come from?
I did have another name when I arrived. But my handler's daughter wanted to rename me. She chose Pax for me because it means "peace." I love it.
What do you enjoy the most?
Just being with my handler. I love to work, I love being busy, but I really love being with Officer Ramirez.
What is your typical day like?
We do a lot of riding around waiting for a call. Then hopefully we get to track someone or apprehend someone.
You mentioned that some of the dogs where you were raised can sniff out bombs or drugs. Can you also do that?
Yes. Every agency decides what they will want their K-9 to be able to do and my agency wanted me to be a general purpose K-9 and to also be able to sniff out narcotics.
Will you be trained for that?
Yes, I'm very excited to say that I hope to start training in June for that. Right now it's just a tentative date so I hope it works out.
Will you also be trained for that by Chief Nielsen and his wife Jan?
Yes. It's very nice to be able to stay locally to receive the training, for both myself and Officer Ramirez. We don't have to go away and be gone from work and our family for this training. I get to go home and sleep in my own bed. It makes it much easier to concentrate on my training.
Do you train with Officer Ramirez?
Yes, all our training is done as a team. He learns how to handle me, to read me and how to reward me.
How long do you think you will work as a K-9?
We typically work seven to ten years.
What do you do besides tracking and apprehending?
I get to do fun stuff, like go see kids in school. In February of each year, Centralia and Chehalis second and third graders read a book about an officer and his K-9, then the schools call and ask us to come and visit. The kids love to pet me.
That doesn't bother you? I thought K-9's were all work and very serious?
Not me! I love being social. I love the attention from the kids.
What do the other officers think of you?
They love me. I help them. I make it safer for them. I help them locate people. I can alert them if something is wrong, and I will help them whenever they need me.
So if the people see you, they can stop and say hi to you?
Absolutely!
How about Officer Ramirez, what does he think?
He thinks working a dog is the best job in the world. I think working with my handler is the best job in the world. So we're both lucky!
What should someone do if they would like to have you visit their school, retirement center or other group?
Just give us a call at the City of Centralia Police Department at 360-736-7680.
We're so glad Pax and Officer Ramirez are on the job!