Spending time with your family in the great outdoors of Lewis County is a timeless tradition that has been occurring over countless generations. Surrounded by stunning wilderness, iconic mountains, sweeping views and breathtaking waterfalls, we find ourselves intoxicated with the natural beauty of our home and long for the days when the weather is good enough to explore all of Lewis County.
With the end of winter in sight and warm weather promising to return, we encourage you to join us outside this year, hiking and walking some of our favorite trails. Few places in the world rival the beauty we find in our backyards, which is why we highly recommend checking out these nine trails in 2018. You won't be disappointed with what you find!
Silver Falls
On the eastern side of the county, along the Ohanapecosh River, Silver Falls should never be skipped. One of the prettiest rivers in Mount Rainier National Park, hiking along the Ohanapecosh is like hiking through a wilderness wonderland along this family-friendly trail. The easy-to-follow trail passes through stunning forests before reaching the breathtaking waterfall known as Silver Falls.
Falling a total of 95 feet, with the largest plunge coming in at 40 feet, this waterfall is extremely picturesque and beautiful. Remember to stay on the trail while looking at this and all waterfalls, as the spray from the water makes the rocks and unofficial paths extremely slick and treacherous.
Grove of the Patriarchs and Box Canyon
Found in Mount Rainier, these two trails are family-friendly and a great set of easy hikes during the summer and fall months. Start with Ohanapecosh and the Grove of the Patriarchs. At just 1.1 miles in length, this trail crosses a suspension bridge before weaving through massive and ancient stands of timber. After that, explore the Box Canyon Loop Trail, a short drive west of Ohanapecosh, where you have a chance to walk through a small valley made smooth by glaciers, before crossing a bridge over a ridiculously deep box canyon.
High Rock Lookout
Looking for sweeping views and serious height? Hit up High Rock! Found on the north side of the county, above the Nisqually River, this one of the most majestic and stunning views in the Pacific Northwest. The trail is just a 3.2-mile hike that leads to breathtaking views of Mount Rainier, Mount Saint Helens, Mount Adams and Mount Hood from one spot. Just 20 miles as the crow flies away from the 5,685-foot High Rock Lookout, Mount Rainier towers over you by nearly 9,000 feet. There are no mountains or hills blocking your view, but the drop from the lookout tower is incredibly steep, so be extremely careful and know your limits.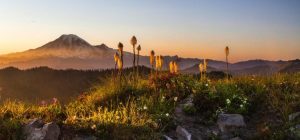 Goat Rocks Wilderness
Goat Rocks Wilderness is one of the most underrated and breathtaking wilderness areas in the state of Washington and a gem of our county. Best seen in the summer and fall, the100,000 acres of Goat Rocks is best seen from the summit of Gilbert Peak, which stands at more than 8,000 feet above sea level. From here, the entire Cascade Range stretches north and south, with the Pacific Crest Trail roaming through this pristine, high alpine wonderland. Full of mountain goats and 120 miles of trails, this is an ideal place to hike, backpack and rediscover the majesty of the wild. Close to Packwood on Highway 12, the Goat Rocks make an excellent part of your summer plans.
Old Growth at Lewis and Clark State Park
Family-friendly and a great day trip or afternoon stop, Lewis and Clark State Park is often overlooked or dismissed as an area for recreation. This shouldn't be the case this year. Within the boundary of the park, a stand of ancient and beautiful old growth trees make this a must-see destination. Lewis and Clark State Park is a fantastic place to explore, offering five miles of hiking trails, an old growth forest exhibit, information about the Oregon Trail Spur and the location of the first American pioneer home built north of the Columbia River.
Cathedral Falls
Located in the Gifford Pinchot National Forest near Morton, the Goat Creek Trail leads to one of the county's top waterfall destinations. Cathedral Falls is a 250-foot-tall waterfall that plunges down into a punchbowl, letting eager explorers hike behind the cascading waters. Family-friendly and less than a mile to reach, this waterfall is as breathtaking as they get. This is also one of the most picture-friendly waterfalls around, so if you want the ultimate selfie or family nature pic, you should head here.
Covel Creek and Angel Falls
Gaining just 300 feet, the trail to the falls is easy to follow and rewards you with a great waterfall experience. Angel Falls is a gorgeous waterfall, but the highlight for most who hike in this area is walking behind the falling water at Covel Creek. Falling 75 feet straight down, Covel Creek Falls is best seen during the spring runoff months. Starting at the Cispus Environmental Learning Center, the Angel Falls Loop Trail is one of the more classic destinations for outdoor adventures in Lewis County. Following the 3.4-mile, roundtrip trek, two breathtaking waterfalls are easily reached, making for an ideal family-friendly adventure this year.
Willapa Hills
If you want to ride or walk for hours on end, hit up the Willapa Hills Trail. This is the longest trail in Lewis County, running for 56-miles and stretching from Chehalis to South Bend. Crossing over countless railroad trestles and giving unrivaled views of the entire county, the full length is rarely completed in full, as numerous sections still need work. However, the sections that are open to the public are incredible and should be added to your list of family outdoor adventures. Currently, 27 miles of the route are ready for runners and offer up a nice, flat and easy trail to walk, run or bike. Keep in mind that this trail rotates from pavement to gravel to mixed surfaces through the route. A great introduction to this area is the first 5.2 miles, from Hillberger Road in Chehalis to Trestle number five near Adna's Bunker Creek Road.
Packwood Lake
Perfect for family adventures in nearly every season except winter, the 10-mile long Packwood Lake Trail is a classic trail in Lewis County. Gaining just 600 feet of elevation, the out-and-back trail starts walking through four miles of old-growth forest in the Goat Rocks Wilderness. With glimpses of Mount Rainier and the peaks of the Goat Rocks possible on clear days, you'll enjoy this trail. The true gem of the hike is the lake itself. Right before the lake, keep an eye out for a guard station that was built in the early 1900s. This hike is best in the late spring months, when wildflowers are blooming in full and the snowy peaks are perfectly reflected off the lake.