The town of Tenino has long been a rock-solid community … literally. Sandstone became one of the town's leading industries in the late 1800s. Fast forward over 200 years and this tight-knit community continues to thrive. From the solid foundation of family and sustainability, the Sandstone Distillery was born. Named to honor the town's past, this organization is committed to upholding local community spirit.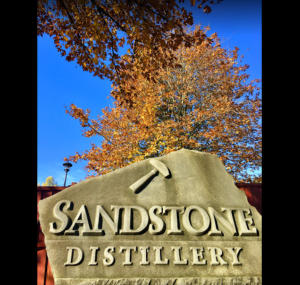 What better way to uphold that spirit than with spirits! In just over three years, Sandstone Distillery has become well known for their specialized vodkas, whiskey, gin and premixed cocktails. Whether purchased online, ordered at local bars and high-end restaurants or sampled by the thousands that experience a distillery tasting, the word is out. Sandstone is a high-end product that has a little of everything to please any palate. From the bacon fused whiskey to the award winning Stone Carver vodka, or even their 120-proof Andrews Hammer, there truly is something for everyone.
Sandstone has something to offer non-drinkers as well. Concerts with live music and dancing are held on a regular basis. One of their regulars is Ethan Tucker who you may have seen as a finalist on NBC's The Voice. Before you dust off your dancing shoes, please be aware that seating is limited so check their website or join their email list for notifications. For more quiet and inquisitive people, the Bourdons offer a distilling class. This gives people a unique, behind-the-scenes look into the remarkable creation process.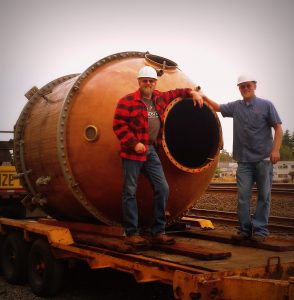 With something for everyone, it's no wonder Sandstone Distillery has become a sensation in such a short amount of time. Master distiller John Bourdon attributes their success to high quality ingredients. They use only 100 percent Washington-grown grains. While this places Sandstone's beverages a step above, many of their customers say it's their commitment to community and sustainability that keeps them coming back for more.
Over 75 percent of Sandstone Distillery's building is constructed of recycled steel and reclaimed wood.  Their shipping totes and still are also made from recycled materials. There are many green initiatives at Sandstone Distillery, showcasing how highly they value sustainability. Such endeavors may not be cheap but they are worth every penny.
What also sets Sandstone a cut above is their commitment to the community. Many local charities, churches and organizations have been blessed with donations from the Bourdon family. The family often donates hosted parties; recipients enjoy refreshments and drinks with friends in the heart of the distillery. With such a unique setting and delightful ambience, your guests will doubtless have a great time they won't soon forget.
One of the biggest charities the Bourdon family contributes to is the Raise for Rowyn foundation. As many know, the Johnson family of Tenino was hit with tragedy when their precious daughter passed away in late 2014. Their rock-solid community pulled together and helped the family through this ordeal. The Johnsons decided to pay-it-forward, organizing the Raise for Rowyn Foundation. Donations, like the ones that Sandstone Distillery offers, have helped nearly 200 families in over 10 states who are facing similar tragedies.
Sandstone Distillery has incorporated this pay-it-forward mentality into their business. While they donate to a variety of charities, they also have a wealth of knowledge that they are donating to local schools. Last summer they worked with Washington State University to complete a study of grains harvested from different regions of Washington State. The distillery created a batch from each, which are currently in the aging process. Eager students are patiently waiting for the results. Although this undertaking took time and financing, Sandstone selflessly gave of themselves. They see it as an investment into the future of their craft.
There's no doubt that Sandstone Distillery is a major asset to Tenino, Lewis County and beyond. With hard work and determination, Sandstone Distillery has etched themselves into the bedrock of this community, for the benefit of all.