Tom Kelly was excited. Actually, make that ecstatic. The W.F. West girls basketball coach has been known to get a touch animated during games. But this may have exceed even his usual limits.

Right as the horn sounded to end the third quarter of the Bearcats' Class 2A District 4 title game against rival Black Hills, W.F. West junior Courtney Bennett drained a deep 3, capping an enormous quarter for her squad which saw the once tight game evolve into a blowout.
Bennett's buzzer-beating field goal came just moments after Taya McCallum sank her own 3-pointer.
It was on.
Kelly exploded from the bench and raced out onto the court to celebrate Bennett's clutch shot.
"Yeah, I guess I got a little excited when that happened," Kelly said. "But I wasn't the only one. Did you see our bench?"
He's right. The coach was far from alone. Every single member of his team were up off their feet as well, large grins on their faces, dishing out high fives to one another.
There was still one quarter to play, but it was clear W.F. West was not going to relinquish this momentum.
It had been four years since the Bearcats last captured a district championship. There was plenty of cause to be elated.
W.F. West's big third quarter turned out to be the difference as the Bearcats rode a wave of stellar play in the second half to hammer Black Hills, 66-44, in the district championship game at Saint Martin's University's Marcus Pavilion on February 16.
"Everyone got involved tonight. You can see how passionate this team is," Kelly said. "We took care of phase one, which was the regular season. We took care of phase two tonight. Now it's on to regionals, which is phase three. We have a week to get ready."
Ranked second among 2A teams in the WIAA's RPI ranking, W.F. West will take the district's top seed and a 12-game winning streak into the regional round of the state tournament on either February 23 or 24. Times and locations have yet to be determined for regionals, but expect the Bearcats to play somewhat close to home.
Because of the team's high ranking, win or lose in regional play, W.F. West (21-2) has secured a berth into the state tournament which will be held February 28 through March 3 in the Yakima SunDome.
Julia Johnson scored a team-high 17 points for the Bearcats against the Wolves (18-5), while Bennett added 11 points and Kiara Steen struck for 9 points.
Holding a slim 27-26 lead at the intermission, the Bearcats blitzed the Wolves in the third quarter, opening things up with a quick 9-0 run before outscoring Black Hills, 26-8, in the frame to take a comfortable 19-point cushion into the fourth.
Highlighting the offensive outburst were 3s from Bennett, McCallum and Maggie Vadala.
"We are always good in the third quarter. That's our quarter," said Johnson, who was selected as the 2A Evergreen Conference's co-MVP with teammate Steen. "We know we are going to come out strong. We definitely didn't play lazy. We talked in the locker room that everyone needed to be moving and playing hard."
W.F. West's 22-point drubbing of the Wolves, a program which had won the past two district crowns, capped a record-setting tournament run for the Bearcats.
The team opened district play with an 88-35 thumping of Woodland. The 53-point victory established a new district tournament benchmark for largest margin of victory. The previous record in the 12-year tournament was 45 points set by Black Hills in its 79-34 win over Mark Morris in 2009.
The Bearcats' newly minted record lasted all of three days, however, as in the semifinals they whitewashed Mark Morris by a gaudy 58 points, winning 95-37.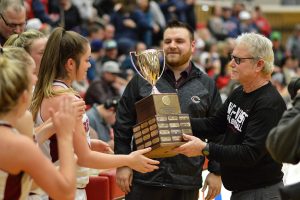 Throw in the 66 points W.F. West put up against the Wolves and the team's three-game point total was 249, breaking the previous three-game tournament record of 224 points posted by Elma in 2010. The Bearcats' final combined point total even surpasses the four-game tournament record of 225 points, which was collected by Black Hills in 2014.
Since losing to Prairie, a team that finished third at the 3A West Central/Southwest District tournament, on January 6, W.F. West has ran roughshod through the competition, winning its last 12 games by an average of 47 points a contest.
"This is an immensely different team from when we were in the regular season," Kelly said. "They work so hard in practice and just keep getting better and better."
This year's district title could prove to be a good omen for the Bearcats as their only other 2A District 4 championship came in 2014, the same year the program captured its only state title.