For many people facing a hip or knee joint replacement, the hardest part is post-surgery when they can't get around by themselves. Not being able to drive is a loss of freedom and convenience so it's no wonder that Dr. Keith Anderson, a board certified orthopedist for Washington Orthopaedic Center, says it's one of the most commonly asked questions.
The good news is that today's procedures are much less invasive than they used to be, so patients are up and back to their regular activities sooner. Dr. Anderson says technological advances in medicine are used at Washington Orthopaedic to make sure their patients are getting the best care to get them back on their feet as quickly as possible.
This does not mean that people shouldn't exercise caution before getting behind the wheel. "Can you drive safely?" cautions Anderson. "Remember, it is not only your safety, but that of other motorists and pedestrians that needs to be considered."
Anderson pointed to an article published in The Bone & Joint Journal that looked at brake reaction time after both a hip and a knee replacement surgery. It examined how long it takes someone post-surgery to apply the brakes in an emergency situation. For this study, they only looked at right-side replacements, since that's the foot we use to apply the brake. From information compiled from 19 studies, they concluded that brake reaction time returned to near normal an average of two weeks after a right-sided total hip replacement and an average of four weeks after a right-sided total knee replacement.
However, this study should not be taken as a blanket answer for every patient. "It is important to individualize decisions about when it's safe to return to driving," says Anderson. For example, if you have a manual transmission car, you may have to think about reaction time with your left foot. Cars with parking brakes that have to be pushed into the floor to set and release may also cause a problem for patients with left-side replacements.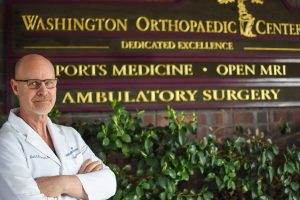 Patients need to think about the shape their body is in. Many people with joint replacements experienced some lack of mobility before the surgery, so their muscles may be weaker. Anderson said this can also cause problems, not just with hitting the brakes, but just being able to sit in a car for a long period of time. So making sure your body is physically up to the task of driving is definitely a top consideration.
There is something you can do help this part of recovery go faster. "We tell people who are preparing for joint replacements that the better shape they are when going into the surgery, the easier it is to bounce back afterwards," Anderson explains. "So we encourage people to not let their muscles get deconditioned."
Aside from the mechanics of driving, Anderson says there are logistics that need to be considered before a person is cleared for driving as well. "Being able to safely get in and out of the car is also an important factor," he says. "For example if you have a walker, you have to stow it in the backseat or the trunk and now you have to get to the driver's seat without its aid. Can you do that? If not, you probably shouldn't be driving. It is not advisable to drive if you are still using a walker."
If you are on pain medications, you should not be driving either as many of these inhibit you. "It is risky to drive if you are taking narcotic pain medications as they can cause sedation, cloud judgment and slow reaction time," he adds.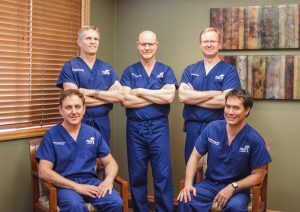 "Historically, wait times were longer," he says. "Most patients don't have to wait nearly as long now. I've seen different people recommend different lengths of time for waiting – anywhere from just two weeks, to five to six months. The main thing is to talk to your doctor before attempting it."
Dr. Anderson's Tips for Getting Back behind the Wheel:
Wait for any pain medication to be out of your system before driving.
Practice with another person there to make sure you can get in and out of your car safely, especially if you are still using assistive devices.
Start with a short drive first because your exhaustion point will be lowered.
Drive with someone in the car the first few trips, in case there is trouble.
"Don't try to resume driving until you can operate a motor vehicle with reasonable comfort and efficiency and you're not distracted by discomfort or medication," Anderson finishes. The most important thing is your safety and the safety of others on the road.
For more information on how they use the newest technology and equipment to get you back on your feet as quickly as possible, visit the Washington Orthopaedic website or call 800-342-0205.
Sponsored