I have been married for almost 13 years. In that time, my husband and I have had two vacations together. The first was our honeymoon. The second was our 10 year anniversary. The main reason for this is we have three dogs that make leaving difficult. One is older and has a few medical issues, one is reactive and doesn't like other dogs and all three guard their food. This makes finding someone who we can trust to care for them properly almost impossible. Plus, I read way too many news reports about animals being mistreated to simple drop them off somewhere and hope for the best.
I know we are not the only pet owners who have this same dilemma. Well, Lewis County, our pleas have been answered. Dr. Brandy Fay's newly opened River Bend Pet Center on Hamilton Road in Chehalis is a luxurious home away from home for dogs and cats, including those with special temperament or medical needs.
A Childhood Dream Come True
In 1904, Fay's ancestors moved out west from Virginia and settled on a large farm where Bethel Church and the McDonald's now sit. The Hamiltons – for whom Hamilton road is named – owned over 100 acres at that time. Over the years, different parts where broken up and sold, but her parents, Ron and Penny Mauel, stayed on a portion of the farm.
Fay, who is also co-owner of Chehalis-Centralia Veterinary Hospital, knew she wanted to be a veterinarian at just five-years-old. She grew up participating in both dairy and beef 4-H and FFA. She was Dairy Princess and Herford Princess at different times.
After graduating from W.F West High School, this hometown girl attended Centralia College for two years before spending the next five years at Washington State University to earn her medical degree, finishing in 2007.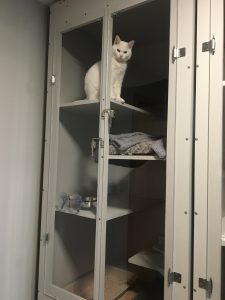 Now married, Fay purchased one of the parcels of the old farm, across the street from her parents. One of her cousins owned another 30-acre portion of the original homestead and when they told the family they were going to sell, Fay saw her chance. "I went to my cousins and told them I was going to turn the hot rod shop into a dog spa," she laughs. "It was the ultimate man cave and I remember when I told them they paused and turned a bit pale, but I assured them it was going to be a nice one." For her, building the center there was a way of honoring the land. "We have a lot of family heritage here so it was really neat to be able to keep it in the family and truly respect the heritage of it while completing one of my major life dreams," Fay adds.
Nice doesn't begin to describe River Bend Pet Center. Driving up the long driveway with the impressive gate, you feel as if you are headed to a grand estate, the likes of Downton Abbey. While the outside of the building may still remind you of the hot rod shop it used to be, that's where the resemblance stops. As soon as you step inside, you are transported to a mountain spa lodge. Light wood paneling, vaulted ceilings, a water fountain, chandeliers and an electric fireplace (not to mention comfy seating), will make you think you are at the wrong address. This is no ordinary pet boarding facility.
Peace of Mind for Pet Owners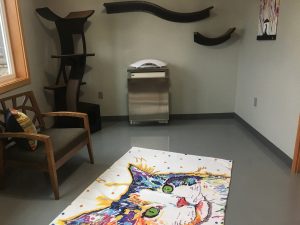 Since River Bend is owned by a veterinarian and run by a staff with veterinary training, they are well-equipped to have pets that may need special care, including administering medications, monitoring and careful exercise needs. The center includes a dog exam room and a cat exam room, in addition to boarding suites, indoor play areas – one each for dogs, cats and a separate area for puppies – and outdoor off-leash areas, including a private dog park named after the late K-9 Service dog, Reign. The private dog park will open March 2018 and will have a small subscription fee. This allows them to temperament check the dogs and require vaccines, removing two of the major negatives with public off-leash dog parks.
Fay used her decade of listening to clients' needs at a vet to develop the perfect facility.
"I get to help people through helping their animals and that's really important to me," she shares. "Over the years, I've been listening to clients about their needs in caring for their pets, and that's what led to the creation of River Bend." She says she has many patients that can't travel because they don't have anyone to watch their pet that needs extra care due to medical problems. Or, maybe they just have a dog with lots of energy and no way to burn it off safely.
She has thought of everything that could make a pet facility ideal, including:
Positive-reinforcement training methods
Fear-free handling protocols including pre-sedation for pets that need it prior to an exam
Dog and Cat pheromones for calmness.
Scientifically researched music that soothes pets
Scientifically researched calming colors for pets
A strict protocol for cleaning every portion of the facility for disease prevention (she is a vet after all!)
Anti-microbial flooring and beds
Sound proofing
Security Cameras
Live cams so pet owners can see their pets as well as FaceTime chats
UV lights to disinfect all beds, toys and blankets brought in by owners
All pets are temperament checked
And more
She really has too many amenities to list. If you have been wanting to take dog training classes, have a safe place to exercise your dog or a trustworthy place to board your cat or dog, definitely pop in and check out River Bend Pet Center. You can get information on prices for boarding and training on the River Bend Pet Center website or by calling 360-562-0325.
This slideshow requires JavaScript.