Public Transportation is vital to clients of local agencies who assist people with disabilities, low-income, or who are simply struggling. While Twin Transit already helps with these needs, they also go above and beyond. They provide a simple transportation service, according to three local agencies who serve populations in need.
Lewis County Work Opportunities
Aven Martin, Program Coordinator with Lewis County Work Opportunities (LCWO) is impressed with Twin Transit. "Twin Transit makes sure all our clients with disabilities get to and from work, doctor appointments, etc. It's so great that the drivers are really familiar with clients who ride the bus. The drivers make sure things are OK with them, and they'll touch base with us if something doesn't seem right. If the rider appears sick, Twin Transit will let us know. They go way over and above what transit is."
Martin is also appreciative of the improvement Twin Transit has made to bus stops. A new covered area with a trash can has been installed in front of the LCWO shop in the industrial park. "It's just beautiful," she says. "We sent them a nice card to let them know how much we appreciate it.
A new bus stop was also installed in front of the Vintage Apartments in Chehalis, which is near the employment offices for LCWO at 1570 N. National St. "Not only does it help the residents of the apartments, it helps our clients as well. It may not help the masses, but it helps many people who are vulnerable. That's so important," emphasizes Martin.
Martin commends Twin Transit's commitment to help riders learn to ride the bus independently. "They provide bus training and will help riders until they are comfortable using the system. They give them the information in a way our clients need. Many of our clients are visual learners. They can see something and replicate it. These are the kinds of things that meet the needs of our clients, and they are the kind of things that most people never hear about. Working with Twin Transit is always a joy and we're always putting our heads together to come up with solutions."
Chehalis School District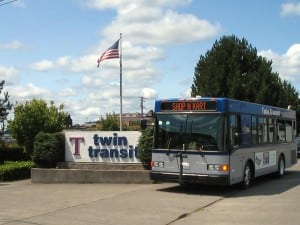 Kathryn Rotter is a Special Education Teacher with the Chehalis School District. "I've been working with Twin Transit for 27 years now, with great collaboration," she says. "Twin Transit has been a great partner from the beginning."
Rotter's clients are students 18 to 21 years of age who have disabilities and continue with services beyond high school in either the "Visions" program or the "Visions II" program.
Students use the bus for different purposes. Many use it to go to and from school on a daily basis, as well as commuting to their jobs and community activities. The district provides some rider training, but Twin Transit is always available if needed. Rotter estimates 70 percent to 80 percent of their nearly 30 students use the bus for transportation. The Visions programs are located on the Centralia College campus. Those students utilize Twin Transit for taking college classes. "The drivers are terrific," Rotter says. "They are a great natural support for our students. They have been extremely supportive over the years."
Reliable Enterprises
Andy Skinner, Development Director for Reliable Enterprises, a social service organization, explains Reliable's massive role in many areas of the community. They are responsible for Lewis County Head Start, In-Tot Birth to Three early intervention program, Parent to Parent Support Network, employment for individuals with disabilities, New Life Thrift Store, Payee Program, Concrete goods program, Visitation program and now the new Anderson House Emergency Foster Care Home – just to name a few.
"We work with over 1200 individuals in our programs every month," says Skinner. "We've noticed that these populations often don't have affordable transportation or have old cars but no savings built up to fix them if they break down. A lot of our population utilizes Twin Transit. We have a payee program where we can help pay for bus tickets for our clients. That can alleviate stress for them as we help provide secure financial management. We want to give people a way to improve their lives."
Skinner has nothing but praise for Twin Transit drivers as well. "One of the things we really enjoy is that the drivers will give us an idea if something is going on with one of our clients and we can chat about what we can do to help. But they don't just let us know about problems, they also tell us about successes so we can celebrate with them as well. Building those relationships is what really makes it significant."
Skinner enthusiastically echoes the comments of Martin and Rotter – "Twin Transit goes above and beyond to help people."
Twin Transit
212 East Locust St.
Centralia WA 98531
360-330-2072