Dan Maughan of Adna started keeping bees several years ago. "It looked fun," he laughs. "It was interesting to watch the bees fly, watch them scurry around. I thought it would be neat to study and get to know them. They're so industrious."
Maughan just wanted to have a little honey and maybe sell a little. He was successful, even earning Grand Champion for his honey at the fair. He learned along the way though, keeping bees isn't all that easy. "People tend to think of them as wild animals and that they don't need to take care of them, that they just take care of themselves," he says. "But bees have been part of the domestic supply since ancient Egyptian times."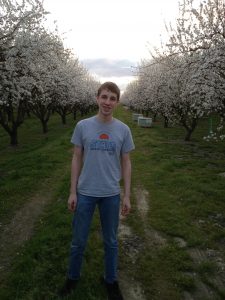 In 2015, a jar of 3000-year-old honey was found in Egypt and was still good. One National Geographic story reported that honey and bees' wax have been used by humans for over 9,000 years.
Maughan explains that bees require animal husbandry, maintenance and care. There are some real issues that can affect the bees, so a keeper must be aware of them. "The biggest issue is controlling mites in the bees," explains Maughan. "If you just want to watch them fly around but don't want to take care of them, you won't have them long. They'll either die off or fly away. But if you take good care of them you have a big chance of being a successful beekeeper."
Over the years Maughan has expanded his bees, doing more than making and selling a little honey. His three sons help him with the care and maintenance of the bees. His wife helped as well until she had an allergic reaction last year. "She stays away now," he says with a touch of irony.
Then Maughan did something most people don't think about. It happened by chance. One day a farmer called him up asking if he would be interested in bringing his bees over to pollinate his crops. The farmer had previous experience with using bees in this manner and was willing to teach Maughan about it. "It was a good stepping stone for me," Maughan says. "I really enjoyed it."
To transport the bees for pollination, Maughan puts the bee boxes on wooden pallets, then loads them onto a trailer. "You need to move the bees when it's cool so they stay inside. They also don't fly when it's super windy, like driving down the road."
Maughan also says that bees stay inside when it's windy and cold, so during fall and winter they can be moved pretty much any time of day. "They also stay inside in the dark, but if you disturb them they can become a little agitated."
The amount of boxes needed to pollinate depends on the crop, but it's typically a couple of boxes per acre. Maughan took 25 hives to his first pollination experience. He has mostly pollinated blueberry and seed crops for local farmers. "I just take them in when the farmer is ready and remove them when the farmer is done with them," he smiles. He goes on to explain that bees don't make honey when they are pollinating. They just take the pollen and pollinate other plants.
For making honey, blackberry bushes and big leaf maple are good nectar plants. Maughan's 28 acres in Adna has 5,000 feet of fence line covered in blackberries and his neighbor also has a lot of blackberry bushes that the bees can feast on as well.
He is looking to expand his bee hives, with his goal being the number of hives he can safely transport. "I would like to fill a semi so I'm looking at 300 to 400 or so. I'm about halfway there now." As for how long it could take to reach his goal, Maughan explains that it depends on variables that a keeper can't necessarily control. He says everyone plans for about a 20 percent loss but it could be higher. So far he has been under 25 percent. "It's been a lot of work," he says. "It is partly luck but is also that I am meticulous in how I treat my bees."
Maughan also looks for other property with good nectar plants where he can place his bees. "I used to be involved in the cattle business so I still have a lot of connections there, friends and associates. Often their fence lines are also covered with blackberries so I look to place my bees on their property as well. You just respect their property, close the gate and be good mannered. And I always bring them a gift of honey," he smiles.
Maughan is a member of Lewis County Beekeepers' Association. For more information on beekeeping check out their website.