I have said it before and I will probably say it until I am blue in the face – Lewis County has some of the best outdoor recreation in America. This grandiose claim isn't just the boisterous bragging of a local, instead it is based on the recommendations and adventures of some of the most active outdoor enthusiasts around the Evergreen State. While the west side of the county may not get much snow, the mountains of the east provide breathtaking snow adventures, ideal for snowshoers and cross country skiers of all ages and abilities. From White Pass to Rainier, snow lovers of Lewis County are able to find the perfect destination for their desires.
Kui Maunakea often finds herself exploring Lewis County's bounty of snow. Sharing her adventures on Instagram, she is an avid hiker during the summer months, who transitions from boots to snowshoes once the powder stacks up in the mountains. "Rainer during the winter has a completely different vibe than during summer," Kui explains. "The same areas that you were once hiking, you are now snowshoeing on under a blanket of snow. The snow and ice give the area a holiday feel as well as the quietness of the landscape adds something special to being out there."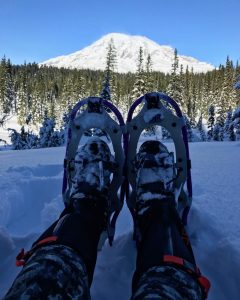 Mount Rainier is typically choice number one for snow enthusiasts hoping for stunning views and wilderness experiences. Your best option for a snowshoe or cross country ski adventure is found on the Reflection Lakes Trail in Lewis County. Starting at Narada Falls and following the closed and snow-covered road, this route gives you impressive views of the iconic mountain and a chance to see a frozen lake and snow-draped trees. Starting at the warming hut at Narada Falls, this less than four mile round trip trek will surely captivate your sense of wanderlust. If you can only hike one trail, this is the one as on a sunny day, you will receive the greatest reward. Other incredible snowshoe and cross country skiing options at Mount Rainier can be found at Longmire and Paradise, with Longmire being the preferred destination for easier trails.
Those without snowshoe experience are still in luck at Mount Rainier, as Rangers at Paradise lead guided snowshoe walks that cover 1.8 miles in around two hours. The best part is, snowshoes are even provided by the Park Service for these walks!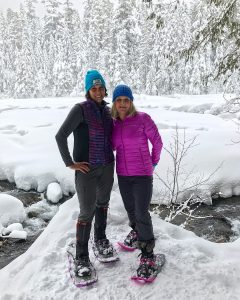 "Wherever you go, the magic of the landscape under snow is a highlight and on a blue bird day seeing the mountain past the snowy trees makes the outing definitely worth it!" Kui says.
South of Rainier, along White Pass, groomed and wonderful snow is awaiting snowshoers and cross country skiers. Near both the William O Douglas Wilderness and the White Pass downhill area, the White Pass Nordic Center is a regional favorite. Offering over 11 miles of immaculate trails though stunning forests, the Nordic Center is open with groomed trails Thursday through Sunday and holidays. The trails are open all week, but not groomed.
Here you can rent both cross country skis and snowshoes, allowing yourself any type of adventure you desire. Once you are ready to rock in the powdery wilds of White Pass, the region has quite a surprise, sporting amazing trails. One of the classic snowshoeing routes at White Pass is the Leech Lake Loop, which is just under a mile and a half in length, giving off great views along this gorgeous and relatively easy trail. Snowshoers looking for something longer can take this trek, but follow the spur at the Northeast end of the lake for a waterfall another mile away.
Cross country skiers will love this area, thanks to the varying levels of difficulty found on the handful of trails in the White Pass Nordic Center. Staring off in old growth timbers along the easy southern shore of the Lake Loop, skiers can take the half mile Kendall Konnector to the Dark meadows Loop or challenge themselves by jumping on the aptly named Zig Zag Loop. One you have explored the trails, an added bonus of exploring around White Pass is always stopping off at the yurt. Here, you can warm up, drink some cocoa and even get some warm food in your stomach, allowing you to refuel before round two of snowy exploration.
For those hoping for something a bit more remote, we suggest heading to the Skate Creek, Johnson Creek or Wakepish Snowpark, close to Randle and Packwood. Once there is enough snow, these areas are ideal for snowshoeing, cross country skiing and even snowmobiling, giving views of our region's mountains in the distance. While Wakepish is technically in Skamania County, this destination, under the watchful eye of Mt St Helens, is perfect for long adventure in crisp and clear weather. As a note, a Washington State Snow Park Permit is required for each vehicle between December 1 and March 31.