In between all the action on the court during practices this summer, second-year W.F. West volleyball coach Emily Mora introduced a new winkle into the Bearcats' pre-season training.
It's called Mental Toughness Mondays.
"I really believe the missing piece last year, and something we've been working on a ton this year, is our IQ," Mora said. "We didn't get outhustled by teams. We didn't get outworked by teams. We got outsmarted, so our mental game will definitely be improved."
There were times during the early stages of last season where Mora could tell her team was beaten prior to even stepping on the court.
Don't expect that to be the case this time around.
Led by a powerful trio of junior hitters in Makenzie Moore, Megan Pallas and Kailey Hoyt, W.F. West is looking to make some noise this year in the 2A Evergreen Conference.
"Volleyball is mostly just a mental game, if your head's not in it you're in trouble," Hoyt said. "It's definitely something we have focused on this year. We don't feel like the underdogs so much anymore."
It's easy to be intimidated when you play in a district that has long been regarded has the gold standard among the 2A classification. Three teams earned state playoff berths out of the district last season – all three placed among the top 5 at state with Tumwater and Woodland coming in first and second, respectively.
"I think the girls came in last year and at times early on thought, 'Well, this team has always beat us. They'll just do it again.' We constantly told them that's not the case," Mora said. "We had a lot of young players last year. We had some freshmen starters, we had lots of sophomore starters. Talent-wise, we had the pieces. We just didn't know how to apply the mental side of it last year. It's going to be a different story this year."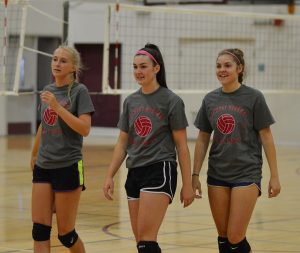 The new-found confidence among the players began to materialize late in the 2016 season. The Bearcats squared off at the district tournament against a Black Hills team which had defeated them twice during the regular season – albeit by close margins.
Lose and W.F. West's season would be over, win and the team would move on to the second day of the tournament.
"It came to the end, this was make it our break it," Pallas said. "I'm back at the line serving and I was scared to death, but I kept acing them, and we made it to the second day of districts for the first time in forever. That gave us a lot of confidence. Now, this season, it's knowing we can beat these teams."
Moore, who made the move from middle blocker to outside hitter last year, will once again pace the Bearcats' offensive attack.
"Once I moved outside I just became more comfortable and actually did a lot better than I thought I would," Moore said. "It's fun to play with this group of girls and having a new coach. Our goal is to make it to state this year. We've never done that, and I think we can."
The 5-foot-10 junior is coming off a sophomore campaign where she was named first-team all-EvCo – one of only two underclassmen to earn the distinction.
"I think she caught a lot of people by surprise because they didn't recognize her from her freshman year," Mora said about Moore. "She's definitely a go-to player. She has a quiet presence, but a huge presence at the same time. When she gets up on a block she's taking up a lot of air space. It's impressive to see."
With Moore drawing plenty of attention from the outside, the 5-9 Pallas and 5-10 Hoyt will once again occupy the middle for the Bearcats – providing W.F. West with a formidable front row.
"They've matured a lot. They've gone from last year where they were trying to figure out their roles to knowing what to do this year," Mora said. "When they are on the court they have a much difference presence this year. Last year they were more timid. Volleyball is an aggressive sport. It's not a contact sport, but it's an aggressive sport. They're turning into those type of players."
The Bearcats open the regular season with a non-conference match on September 5 when they host Montesano. The Bearcats will play in the Kitsap Classic Volleyball Tournament (September 16) and Monarch Challenge (September 23) before opening conference play on the road against defending state champion Tumwater on September 26.
"We're finally building a program here and I just want to bring that to the top just like our other sports," Pallas said. "The best part is we're out there on the court with our best friends. We're going to win together, we're going to lose together and we're going to grow together."