In 2016, Jan Nontell purchased the building at 209 North Tower Avenue in Centralia with the help of Windermere realtor Max Vogt. Her dream was to open an art gallery focused on local talent because she saw a real need for art in our community. The result of her efforts is the Rectangle Gallery & Creative Space – a unique gallery featuring a wide variety of media – from silk and sculptural felting to paintings and woodcarvings.
"I am so happy that Windermere Real Estate was the company that represented Jan Nontell in purchasing her building for this gallery," says Max Vogt, designated broker and owner of Windermere Real Estate. "As I expected, Jan is creating interesting events and classes for art in Centralia."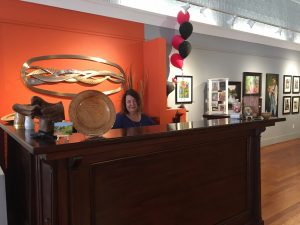 Jan, whose favorite medium is ceramics – particularly raku – says she knew as soon as she saw the building that it had to be an art gallery and Max helped her make that dream a reality. "He made it really easy and really fun," she adds. "And he has been so supportive since. He stops by to see how we are doing."
In the past year, Jan has built up a strong art presence in downtown Centralia, creating a gallery unlike any other. For starters, she loves and welcomes children.
"Children need art and art needs children," Jan says. It's a simple but powerful statement. "Most people are scared to bring their children in here, but we want them to come in and to experience art." They even have a small table with a chair, crayons and a book for kids to color when they do visit.
And, twice a year in April and October, she has a children's art exhibit where kids can show and sell their art, just like the adult artists.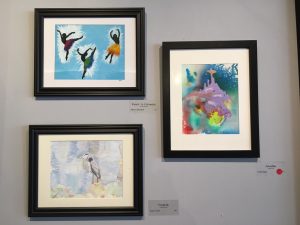 "Jan has created something very unique for our community," says Max. "Has anyone seen an art show where children get to sell their art and learn a little about contracts, responsibility and a positive attitude about what they can do in the process?"
Jan explains that the kids are treated just like adult artists. They have to come in, sign up, sign a contract and decide on a price for their art. "We don't put ages on their art because we don't put ages on adults' artwork," Jan explains. The only thing they do not do with the kid's art is "jury" it – that is, decide whether or not can be shown. Instead, the spots are on a first-come, first-serve bases. For more information on future shows, visit the Rectangle Gallery's website.
A Local Focus
The gallery is a co-operative gallery, meaning all the artists help pay the rent, utilities and take turns working in addition to selling their art. "Any time you come in, one of the artists will be here so you actually get to talk to an artist," Jan says.
Currently there are 15 artists who are part of the co-op, but they have room for 20 and are always looking for new local artists. The artists are from Lewis and Thurston County, within a 25-mile radius of the gallery. "We are willing to go a bit farther than that, but not much, because it's nice to be able to say everyone is local," Jan says. "I am a real proponent of shop local, choose local, be local."
Bringing Art to Everyone
Something else unique about Rectangle Gallery are their classes, which are open to anyone of any skill level. In fact, most of the people who come to classes are beginners, Jan says. Each artist chooses the classes they want to teach. "We love beginners – everyone is an artist, they just don't know it yet," she adds. You don't have to be a member of the co-op to teach a class.
They have a wide range of classes, including painting, silk dying and sculptural felting. They also have First Sunday where people can bring in art to work on in the gallery. They have food, drinks and a lot of laughter. The gallery also started and participates in Downtown Centralia's Third Thursday. New this month, they are introducing a build-your-own-class, which is a private party. You can choose the class, the instructor and then invite between 6 and 20 friends to come. Also new, they will soon be offering free classes on the business side of art – presentation, how to jury, how to best show your artwork, what to expect when you show at a gallery, how to get your artwork into a gallery and more.
True to her mission of bringing art to our community, Rectangle Gallery is placing a large metal star sculpture in Central Park. And in the summer you can see artists down there working on their craft.
"As we like to say, 'There is art in CenTRAlia, you just have to find it,'" says Max. "The Rectangle Gallery is easy to find."
For more information including how to sign up for classes and exhibits, visit the Rectangle Gallery's website or visit them at 209 North Tower Avenue in Centralia. They are open Monday through Saturday from 10:30 a.m. to 6:00 p.m. and on Sunday from 11:00 a.m. to 5:00 p.m. For more information about Windermere Real Estates, visit their website or call 360-736-3300.
Sponsored